Horse Halloween Costumes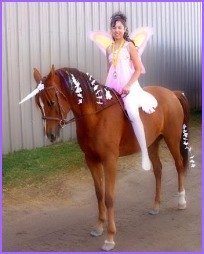 Here you'll find more than 30 awesome horse halloween costumes created by horsecrazy girls - with details on how you can make them yourself!
---
---
Check out these awesome horses and costumes!

Here are entries from our annual costume contest.
Make sure you check out this year's contest!
Contest entries 2016
Click on any thumbnail picture to see the full pic of the costume and how to make it.

Be safe girls! A horse can spook if your costume is flowing, or noisy, or has unusual smells or textures.
So think about that carefully when making and choosing your costume:

* Give your horse a chance to sniff and see every piece of your costume before you mount your horse.

* Use only safe materials - glitter, glue, dyes or paints should be non-toxic. You don't want to give your horse (or you) an allergic reaction!

* Always wear your helmet when you are on your horse. If you're worried it won't look good with your costume, consider a helmet cover. Better safe than sorry!