Rafiki and Young Simba
by Heather
(Millington, TN USA)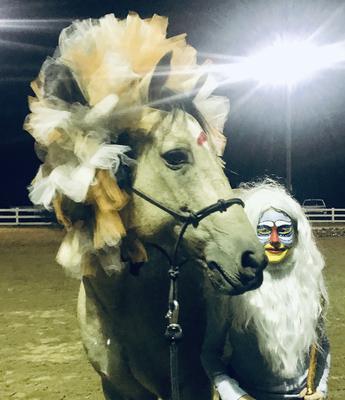 Rafiki and Young Simba costume
Here we asked Heather to share how she created this
horse costume for Halloween
.
How did you come up with your costume idea?
Well we wanted to do this last year for our saddle club Halloween show, when the new Lion King was still fairly new, well we got rained out. So, since it is still one of my daughter's favorite movies we decided to do it this year instead :-)
How did you make it?
The wig for Rafiki was ordered, I did my daughter's face paint(only the second time I've ever face painted), we made the lions mane with various colors of tooling. The stripe across Simba's forehead is face paint as well.
How much does it cost?
Under $40, pretty low budget but effective.
Where did you wear it?
At our saddle club's annual Halloween Show.
How did people react?
They loved it and most didn't even recognize my daughter till she got the horse out, then they recognized the horse haha.
How did your horse like it?
Good old Macey puts up with anything. I have owned this horse for 19 years. I had many good times on her and it is so special for me to see my daughter enjoying her and rodeoing on her now. This was their first costume class together.