About Me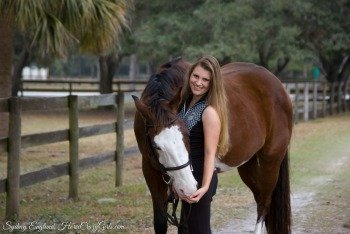 Hi! I'm Sydney, a truly horsecrazy girl and founder of HorseCrazyGirls.com. I have been in love with horses for as long as I can remember. My parents said it all started when I rode a pony at a festival when I was maybe three years old. I started taking riding lessons when I was about four years old. I didn't have my own horse for the longest time so I rode a LOT of different horses at different barns. (And looked at a million pictures of horses for sale, and rescue, and wrote pages and pages of horse names!)

Mostly, I ride hunter/jumper but there was a year when I rode at a barn where we did eventing and dressage as well.

I live in Florida and a few years ago my dreams came true when I got my horse Sinatra. I was going to a barn to look at another horse but it was sold before I could get there. They told me about another horse for sale but he didn't sound like what I was looking for. Still, my trainer thought it would be a good idea for me to at least take a look so I could at least start comparing horses.

Well, I rode him and I fell in love.  I currently do the 3'3 A/O hunters with Sinatra.  But have done eventing and some western in the past.
In addition to my horse Sinatra, I have a dog named Sampson. He's also a sweetheart and he loves to come to the barn with me. (He's also obsessed with chasing tennis balls!)
I am currently attending William Woods University. I am getting a business degree with a concentration in finance and economics and a minor in EQS and biology.  It's been really fun meeting so many girls across the world through this website.
Horsecrazy girls are the best!