Horse Blog
The HorseCrazyGirls.com horse blog lets you know what's new - from other horsecrazy girls like you. See the latest horse game reviews, fave horse names, equine books and movies, pony pics and much more. Be sure to share your faves with all of us too!
Your horsecrazygirl-friend,
Sydney
Aug 21, 2019
Horse art from all over the world!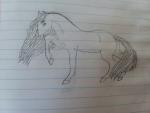 Share your horse art with us! Please, please DO NOT post drawings that are not yours.