Thoroughbred Horse Names
by Sydney at HorseCrazyGirls.com
(Florida, USA)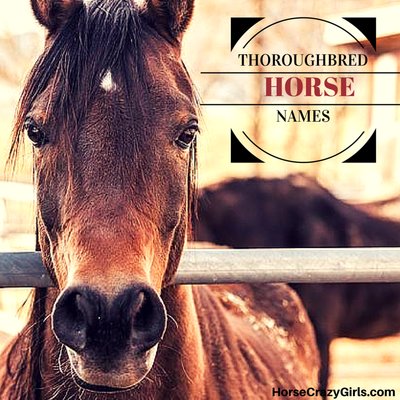 A bay horse with a white star with its head over a metal railing. There is another bay horse in the background with its head down. The background is blurry. In the right hand corner there are edges of a square and inside them is a circle outline. Going through the middle of the circle is two parallel lines. In black lettering above the first line is the word Thoroughbred. Between the two lines in Maroon is Horse and beneath the second line is Names in black lettering.
Here you'll find thoroughbred horse names shared by other horsecrazygirls like you! Use the comments link to share your ideas for Thoroughbred horse names. We'd love to hear them!


Comet
(by Scarlett, England)
It is the name of my horse, and I think it is a beautiful name. To me it indicates speed and brightness, like a comet in the sky.
Teddy
(by Meika, NZ)
Cause my horse's name is Teddy! He is a big 17h chestnut with a star. He's a thoroughbred x quarter horse! And I LOVE HIM TO BITS! He has the sweetest softest nature ever! I luv ya Teddy!
Miz Pep O Docs Beaut
(by Megan, USA)
I chose that name because my mare is thoroughbred and she's off the track. She's solid black with three white feet but I call her blackie.
Fleet Goddess
(by Luna)
I love the Fifth Thoroughbred series book and this is my favorite character (Ashleigh's fantastic racing filly)!
Stardust
(by Marisa, Tomah)
Ashleigh's horse from the thoroughbred series.
Wonder
I have loved reading the Thoroughbred Series and have always loved the name Wonder for a horse. When I got my chestnut thoroughbred I named her Wonder too!
Perry
(by Katie, Australia)
My horse is an x-racer. He bowed two tendons so I can't ride him, but I can groom him and I am training him now. He is 15 hh.
Jamaican Me Crazy
(by Aubry, KY)
Jamaican Me Crazy (aka Conji) is the 15.2 bay Thoroughbred I ride in lessons. His name is just soooo cute I had to submit it! I <3 Conji!
Shay and Dakota
Shay.. Well, I really like that name. My friend has a horse named Chantal. She is a paint thoroughbred horse. And I also love the name Dakota.
Stormy, Starlight, Swaybe, Arwin
(by Ayla, Australia)
Stormy is the name of my bay appy. He is so well-behaved and I made my own cross country course on him, He is so cute.
Starlight was the name of my Albino pony mare but unfortunately she died.
Swaybe is the name of my thoroughbred but he has a sway back. Swaybe is a good nickname. We might race him.
Arwin is the name of my grey filly.
Thunder On The Trail
I think this name is great for a thoroughbred because it makes me think of lightning which is very fast.