Awesome Horse Lover Gifts for Girls!
If you're a horse lover, gifts that have to do with horses or ponies are your favorites... am I right? Here are lots of cool stuff you can ask for on your birthday, Christmas, Hanukkah. (And yes, a horse is the very best gift in the world!)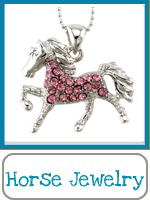 Horse Jewelry
Don't you love horse jewelry? Rings, necklaces, anything to do with horses. The best part is when you wear equine jewelry people notice and start talking about your favorite thing - horses and ponies!

Find Awesome Horse Jewelry Here!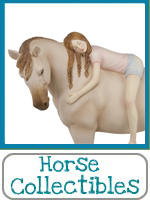 Horse Collectibles
Breyer model horses, Trail of the Painted Ponies, Horse Whispers (new!) and Lenox horse collectibles make great gifts for girls who love ponies and horses. I have three that were given to me as gifts and they are something I will treasure forever.
Go to our Horse Collectibles shop!
Horse Magazines
Would you like to get Young Rider or Horse or one of the other great horse magazines? Tell everyone it's an "educational" gift! (And the horse pics are great too!)

Find Great Horse Magazines Here!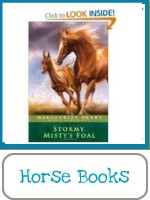 Horse Books
Do you love books about ponies, horses and riding like I do? We have lots of them from horsecrazy girls who posted their faves. So check out our page with horse books, tell us about your faves, read and share reviews, and make your wish list!

Horse Riding Helmets
Ever since I have been riding horses, I've worn a riding helmet. My parents have always been adamant about it, and I'm glad they were. Anything can happen, and it's better safe than sorry.

Go to our Horse Riding Helmets page
Horse Posters
Don't you just luv beautiful pictures of horses? Me too! I have so many horse posters in my room my mom says I am running out of space...but you can never have too many.  There are so many pretty ones I could fill our whole house with these pictures!!

See gorgeous horse posters here!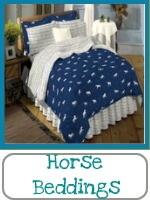 Horse Bedding
You'll have sweet dreams when you are surrounded by ponies and horses as you sleep! Pony-themed bedding is comfy to sleep in. Look for ones made from good quality cotton, polyester and other materials that are safe for kids.
Pony bedding will surely brighten up a room. Check it out!
Equestrian Hair Net
Trying to get my hair into a hairnet for riding was a real pain! It involved lots of barrettes and hairpins, and even then hair would fall out and stick out of the side of my helmet. That's why I was so excited to find the No Knot Hair Net. It is awesome!
Check out my favorite equestrian hair net here!
HorseCrazy Girls Favorite Gifts for Horse Lovers...
Click below to see other perfect gifts for Horse Crazy Girls!
Horse Riding Helmets

Ever since I have been riding horses, I've worn a riding helmet. My parents have always been adamant about it, and I'm glad they were. A few years ago, …