Are You A HorseCrazyGirl?
Is riding horses your favorite thing in the world? 
When you're not at the barn are you reading horse books, playing horse games online or dreaming up new horse names?
Do you just love everything about horses? 
Being crazy about horses is a lifestyle. It's getting up at 4 in the morning for a horse show and not complaining; it's seeing an empty field and imagining the barn you could build there; it's happily cleaning a stall when your room is a disaster, it's about putting everything you have into your passion for everything equine. 
Here you can share your love of horses with girls who understand! 
Horse Games And More...
Hi, I'm Sydney - the founder of Horsecrazygirls.com - and, like many of you, I am a true horsecrazy girl. I currently reside in beautiful sunny Florida, with my parents, my labradoodle Sampson, and my horse Sinatra. I started this site so I could share the things I love  - everything equine of course.

Instantly, I heard from girls from all over the world who told me they are just as crazy about ponies as me.

The truth is this isn't really my site - it is yours!

Every day, girls from around this world share so many awesome things here: 

Reviews of fun online horse games,

Great books with equine themes,

Stories they've written (there are some amazing writers out there),

Drawings and other art they have created,

Most wanted gifts, and lots more.
I feel so lucky to get to connect with so many of you who love these gorgeous creatures as much as I do! I hope you'll find a warm welcome here.
Comment, share, and be part of our worldwide riding club.

Sydney
P.S. Be sure to join my free horse club. When you sign up, you'll be the first to know about new competitions and new things on the site.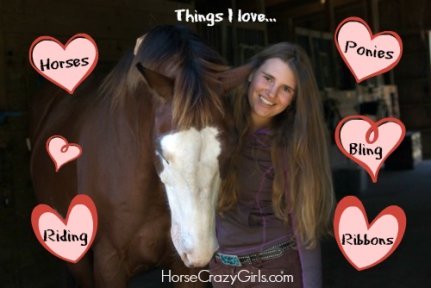 Giving Back
I want every horse to be loved by a horsecrazy girl and I want every horsecrazy girl to have a horse to love. So I am pledging 10% of my site profits to non-profit organizations that help support those goals.
I know there are so many great organizations worthy of support.  I will be announcing the first featured organization shortly. Stay tuned!