American Indian Horse Names
by Sydney from HorseCrazyGirls.com
(Florida, USA)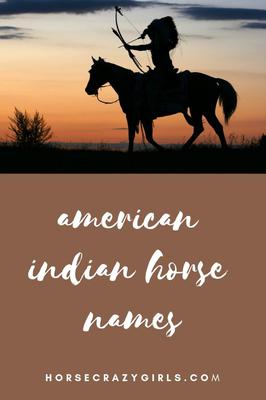 A picture showing a silhouette of someone with a bow and arrow riding a horse at sunset in a western saddle. Below the picture is a brown square with the words American Indian Horse Names in white lettering and below that is the words Horsecrazygirls.com also in white lettering.
Many American Indians have a beautiful history with horses. Names that honor that iconic bond are often very popular, especially with appaloosa, mustang, paint, or pinto horses.

Here you'll find American Indian horse names shared by other horse crazy girls like you!

Scroll all the way down to add your ideas.


Get your free horse names worksheet!
Join our free horse club to download it immediately.
Horse Names Shared By HorseCrazyGirls
Cheveyo (by Mimi)
It's my first horse's name. He is a beautiful leopard appaloosa. This name fits him so well and it means "spirit warrior."
Lakota (by Sam)
It's the name of a horse I ride in real life. He's an Appaloosa horse and I just love to jump him!! It's just a different name and I like it.
Nacoma
I like this name for a horse. It sounds very American Indian like. :)
Kamanchee
That's my paint Tennessee walker's name. Love him!
Cochise
I chose this name because I just got a new Indian blue roan mare and I think it fits perfectly since she has a feather in her mane!
Quil
I just love it because it's off of twilight and is an Indian Quiluete tribe name ;D That's my tribe! I have a gelding named Quil and a mare named Quinsy!
Cheyenne
I love the way it sounds, and it suits a brown or chocolate-colored horse. The name is from an Indian tribe.
Sacajawea
Western... Old Fashioned... Has Flair... Just a cute name for a horse.
Camanchi
It's because I know a horse named Camanchi. It's pronounced (Ca-Man-Chee). He is the horse I ride in riding lessons.
Osceola
Great name for any stallion but I think it goes better with a paint horse because Osceola was the Seminole Indian chief. I call my horse Ozzy for short!
Cody
I think it's a really cute name for a male horse!!
Walela
It is an Indian woman that sings and it's my mom's favorite band, well kinda like a band. I think it's a great name for a filly or mare that is an Indian.