Horse Riding Tales
by Sydney
(HorseCrazyGirls)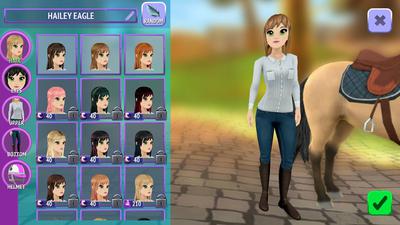 Horse Riding Tales is one of my favorite horse games from FOXY games. You get to design your avatar, choosing hair color, eye color, shirt, breeches, and your rider even had a helmet in this game which I think is AMAZING. Once you pick your name you are in the game!


You start with a short tutorial which includes capturing your first wild horse. You'll then do tasks, such as cleaning your horse's stall, picking their hooves, and washing them to keep your horse(s) happy.
Yes you can capture more horses and build stables to keep the horses! Plus there are different breeds and colors of horses you get to capture. You will also feed your horse apples that you earn in competition to help them level up.
Quests and Competitions
There are different quests to complete throughout the game and for most of them like creating tack, making orbs to help tame horses, etc. You can get involved in harvesting resources such as cotton, wood, and iron.
In the game there are different competitions including jumping that are really fun and you can just ride your horse around to explore the area. There is a chat function in this game all you have to do is answer a simple math question to activate the feature. Talk to your parents if you're younger and be careful.
The story line is a little typical but overall, I think this is a fun game that you can definitely get sucked into. I did!