Baby Horse Names
by Sydney at HorseCrazyGirls.com
(Florida, USA)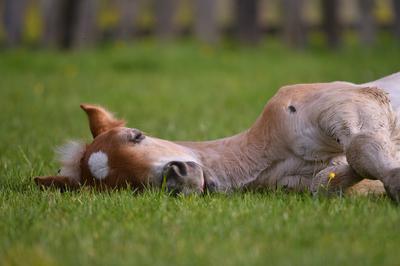 A palomino foal with a white star laying down in the grass. The foal is stretched out and has its head on the grass. The foal's eyes are closed and there is a wooden fence in the background.
Find An Awesome Baby Horse Name
There are very few things as cute and sweet in life as baby horses (aka foals). So when you finally get your own it can be an incredibly exciting time. You will probably want to jump right into buying tiny halters, adorable blankets, and even fun toys but there are some important basics to know.
What is a baby horse called?
The term "foal" refers to what a baby horse or pony is called from the newborn stage up until the age of one year old. Between the age of one and two years old a baby horse or pony is referred to as a yearling. After the age of two a yearling is then referred to as a horse or pony. All of these terms are the same for donkeys as well.
Horses, ponies, and donkeys also have different terms for their genders during their different life stages. From the time of birth through the foal stage, up until the beginning of the yearling stage, a male foal is usually referred to as a colt. Once in the yearling stage a male horse is usually either referred to as a stallion or gelding depending on whether or not the yearling has been gelded or not. If it is a female horse, the term filly is used instead of colt. A female yearling is usually referred to as a mare.
When should I give my newborn baby horse a name?
It is never too early to start coming up with names for your new foal or baby horse; in fact, many people begin coming up with potential names before the mare has even given birth. But there are a lot of different factors that can affect the name the owner chooses for the foal or baby horse. These different factors include;


Coat color of the foal/baby horse

Gender of the foal/baby horse

Height (in this case the expected height) of the foal/baby horse

Birthdate, birth month, birth year of the foal/baby horse

Personality of the foal/baby horse

Eye color of the foal/baby horse

Special markings the foal/baby horse may have

Some great examples of names based on horse's characteristics that have been submitted by horsecrazygirls:
Precious
(Clea, Benton Harbor, MI)
Because it is hardly rare and my horse is precious to me.
Twinkle, Twinkle Little Star
(John, United States)
Great for gray and black with white stared ponies. Plus it has so many barn names with it:
Star
Twinkle
Twinkie
Little Star
Twinkling Star
Twinkles
Foal Names
(Maple)
You could name a filly Maple because I have a model horse named Maple and I got the name because I based it off of her personality cause she is as sweet as maple sugar.
How should I pick my baby horse's name?
So how should owners start coming up with names for their new foal or baby horse? A great first step is to determine what your goals are for the foal. Most owners have a goal in mind for what they want the foal to do and what type of confirmation they want in their future horse before they pick out the mare and stallion. Sometimes an owner will even have a name they have always wanted to give their 'dream horse' but some people are not as sure. But just having an idea of what your goal with the foal/baby horse is can provide naming inspiration.
If you have bred the foal with the intention of using him or her as a building block of your own breeding program you will probably want the name of the foal to include letters that can be connected to your breeding program. Typically, this is the name that you will want to be on their breed registry papers. You can also put these names on discipline registries such as the USHJA registry. However, if you sell the horse or pony later and the new owner takes the horse or pony to another discipline then the registered name with one discipline will not be carried over.
If the foal is not going to be part of a breeding program and/or you don't care if the foal can be traced to a certain breeding program then you can name your foal whatever you want as long as it follows the rules for the registry you are applying to. Some horse breed registries require sire names to be included while other registries just have rules regarding the length of the name.
For example, the United States Hunter Jumper Association doesn't have requirements for the horse's/pony's name length on their application but most people keep it under ten characters. Meanwhile, the jockey, which is for thoroughbreds, has an 18 character limit for a horse's registered name. Additionally, some registries do not allow horse names to be duplicates of past horse names.
Here are some more of my favorite baby horse names shared by horsecrazy girls along with some comments from girls looking for the perfect foal names. Feel free to comment on any of these names or to add your favorite below!
Runnin' in GoGo's Shadow
(Sterling, Montana)
My recent horse GoGo just had to be put down due to cancer. She was my all time number one barrel horse who taught me everything I know. I love this name because I have named her baby this.
My Horses
I started riding when I was 3.. I've rode many horses in my life. Me and my parents plus my 3 sisters own nine horses - 3 of them are mine!
TANGO♥ The first horse I ever rode was a Shetland pony. He was named Tango. A chestnut stubborn horse, he was 13.1hh and a pain in the backside. He hated to be fussed over always bit people including me! Never liked being groomed or having his girth tightened when we tacked him up! But he was perfect in the ring, a handsome little chap! Sadly he died of old age.
COCO♥ After Tango I rode a mare called Coco, a dark brown Dartmoor pony. She was lovely, real friendly although she never liked being pattered. She would start freaking out we never found out why? After me and my sisters got too big for her we sold her to a young little girl. We've seen her around she's made great progress!
CANDY♥ Yes, finally getting my own horse! My uncle found a thoroughbred for sale after the Grand National. When she came to me, she had cuts and scars from the whip her jockey had used on her but she was stunning. A black beauty with her thick mane and flowing tail. A perfect stunner. She is 15.3hh and is fantastic in dressage.
HAZEL♥ Hazel was my second horse! She's a chestnut thoroughbred mare, has a long blaze running down her forelock with four white socks and a thin mane and tail. She's fantastic in jumping and loves having attention.
TANGLE♥ Well, Tangle was a wild horse for the first few years. She roamed the aces of my grand dad's ranch farm. My grand dad caught her along with some other mares. When I went to stay with my grand dad in the US, I met her and she didn't have a name. Her mane was tangled up so that's why I named her Tangle! She was trained for a few years and was promised to be my horse and that she'd come to England with me - and she did Easter 2011!
My horse is going to have a baby, What Do I Name It?
(Anonymous)
My horse sugar is expecting to have her baby any time and I'm not quite sure what to name it?
Sugar is a sorrel dun, American quarter horse and is very calm and loving. The horse Sugar was bred to is also an American quarter horse and is a beautiful Palomino.
Both sugar and the horse she was bred to have champion bloodlines which are Frost and Starlight.
I was thinking of naming the baby Frost or Starlight but I am not quite sure if those are the best names. What should I name the baby? We do not know if the baby is going to be a boy or a girl.
Don't forget to comment below with your favorite baby horse/foal names!
If you can't find a good name for your foal on this page check out our other horse names pages
here
.