Girl Horse Names
by Sydney from HorseCrazyGirls.com
(Florida, USA)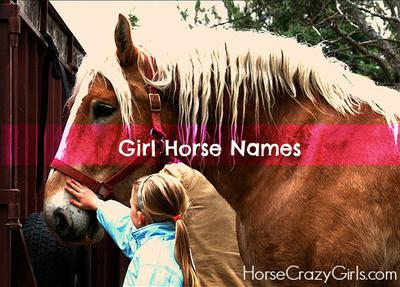 A picture of a palomino draft horse with a white stripe wearing a red halter in front of a red barn and trees. A young girl with blond hair and a light blue jacket is petting the horse's nose. There is a light red, semi-transparent stripe across the image with the words Girl Horse Names in white lettering and the words Horsecrazygirls.com in the bottom right hand corner.
Do you have a mare? Here you'll find girl horse names shared by other horsecrazygirls like you. I'd love to hear your suggestions too!

Scroll down to comment and share your favorites.


Candy
(by Elke, Nederland)
Because it's sweet, I'm not sure about your horse's attitude, but if it's a sweet horse the name might fit :)
Heaven
I think it's a really beautiful name…
Aurora
(by Kaitlyn)
I looooooveeeee that name! It's sooo beautiful and graceful sounding.
Danni
(by Brad, Haubstadt, IN, USA)
Just got my horse and thought Danni was a good name for her.
Bailey
Because my pony is a palomino, and she's the same color as bailey's. It really suits her. :)
Barbie Royal
(by Makayla, MN)
I like this name so much because it's my horse's name. I named her Barbie Royal because she acts like a princess! And she is one to me. :)
Anastasia
Beautiful and unusual.
Hazel
(by Mike)
I choose Hazel because I think it is a nice and beautiful name for my (virtual) horse.
Shakira
I like the name Shakira. I am going to name my mare that but I am still not sure of a show name.. I was thinking maybe Shining Shakira.
Sugar
Because it sounds like a really sweet name and it suits a flaxen chestnut's color. It also sounds really pretty.
Angel
(by Morgan, Bellshill)
That's my horses name.
Southern Belle
(by Lindsey, Mississippi)
I have a mare named Dixie and she had a little filly and we named her Southern Belle. I think it sounds sooooo cute together, don't you think?
Photo Credit: DaMongMan via photopin.com