Horse Show Names
by Sydney at HorseCrazyGirls.com
(Florida, USA)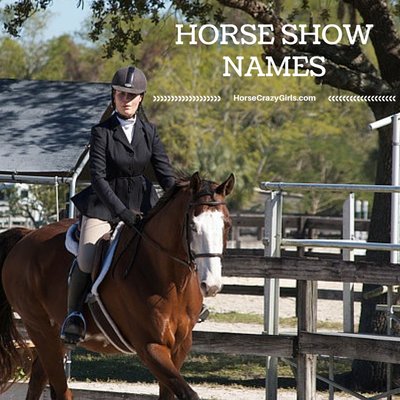 A bay horse with a white blaze, blue eye, and a white belly spot cantering. The horse is wearing english tack and the rider is dressed in english show apparel. There is a fence, bleachers, a gazebo, trees, and another arena behind them. In the upper right hand corner in white lettering are the words Horse Show Names.
How To Pick Out Horse Show Names
Picking out a show name for your horse is a big deal, especially if it is your first horse.
We all want something different in a show name for our horse. Some want a funny horse show name, while others want something clever.
There are those who want a horse name that describes their horse's personality or their breeding. Sometimes people want none of that, instead, they just want a straightforward horse name.
Plus, when you have to deal with discipline association rules or horse breed association rules things can get intense on the horse name front.
Once you factor in a horse that is registered, double registered, etc things get even crazier.
Luckily there are a ton of horse show names to choose from along with some quick general horse name tips on this page so you can find or create something you will be proud to hear when your number is called for that blue ribbon.
A Registered Name Doesn't Equal A Show Name
First off it is important to note that a horse's registered name and show name do not have to be the same thing.
For example, let's say you have a horse registered with the Paint Horse Association and the United States Dressage Federation.
With the Paint Horse Association, your horse may have the registered name Blue Comet while with the United States Dressage Federation their show name is Classy Rose.
As long as you have followed the rules for both organizations in picking out and recording the name this is fine.
However, if you liked the registered name Blue Comet and wanted to use it with the United States Dressage Federation you could.
Basically what it boils down to is that a registered name can be used as a show name but it doesn't have to unless your horse has a show record under their show name or registered name.
Changing A Name With A Show Record
Once your horse has a show record with their registered name or show name it can be harder to change their name, especially with registered names.
It is often times easier with organizations such as the United States Dressage Federation because all you will need is to fill out paperwork and provide payment.
If you are dealing with trying to get your horse's registered name changed I don't believe it is possible. As far as I am aware once your horse is registered with a breed or color association you can no longer change the horse's name.
Rules For Horse Show Names
You may already know this but many disciplines, breed organizations, etc have rules for horse's registered names and for horse show names.
Often times discipline organizations such as dressage, hunter/jumper, eventing, etc have fewer rules regarding horse show names compared to breed and color organizations.
Many times these places just have rules on the number of characters in a horse show name and what can and cannot be included.
Breed and color organizations on the other hand tend to have many more rules regarding horse names. Many times these organizations want or encourage stallion or mare names to be included in the foals registered name. They will also not usually let you use a name that is already or has been used.
For example, if you want to name your horse Blue Spirit but there is another horse with that name already chances are you will have to pick a new name for your horse or change the spelling.
With all that in mind here are some of the horse show names that have been submitted to the website.
I think these are some of the best horse show names and hope you, fellow horse owners, like them too. Feel free to
comment on any of the horse show names or share your favorite horse show names
.
Horse Show Names
Tattooed Fire
(Madi, VIC)
I think tattooed fire is a cool horse show name!!
Dancing Moonbeam
(Moondapple, Canada)
Well, it might be my favorite but I'm not too sure. I have many favorite names like Dazzling Silver, Thunder's pride, Thunder's Cherry, Thunder's dust and Thunder's Star.
Talk of the Town
(Emma, USA)
I'm buying a horse, and the horse doesn't have an official Show name and a barn name, so I decided to have his show name be Talk of the Town, because when I'm done with him and showing, everyone will know him, and he'll be the talk of the town! Get it?
All That Jazz
(AJ, USA)
I'm a fan of jazz music so it was the perfect name, especially since my horse is very laid back and is colorful.
Flash
(Lizzie, Leicestershire)
I have a very fast horse and when I was trying to catch it as a foal, I said it moved like a streak of lightning but I thought it was too long so I shortened it.
Toffee Surprise
(Rosalie)
My 13.3hh gelding is a creamy palomino and the color of creamy Toffee and it suits him loads! At a show the judge even said what a lovely name that suits him! His show name is Toffee Surprise and I love it!
Ask No More
(Libbie, Cambridgeshire)
Because its an unusual show name, and then you have to find out about the horse by looking at it instead of the name telling you something about it x
Star
Because my favorite girl is called Star. and it also makes a good show name .. (Star Dancer) Yes Star Dancer is my baby's show name here.
Callaway Demitria Anastacia Hastings
(Nico, NJ)
I chose this name because I wanted a powerful long name like show horses names and for some reason Callaway came to mind. I could call her Callie!
Chief Lord and Sugar
That's my eventing horse! He is so cute. Thoroughbred racing name he got from he's parents but he hated racing and loves to jump. LOVE YOU CHIEF! Sugar is my little Thoroughbred racing star! now she's perfect for show jumping!
Diesel and Topaz
My pony is called diesel and his show name is limited edition. Topaz is my friends pony's name and her show name is gem with a twist
Shay
Because that is the name of my horse and I love him very much. He is a 8yr old 15.6 hh light bay gelding x-racer and show jumper.
Chocolate Truffles
(Bailey, CA)
Well her barn name is truffles but chocolate truffles is her show name. She is a 7 year old quarter pony and she is 14.1 1/2 hands!!!
Rookie's Gambling Chance aka Gambit
(Kbecks, Canada)
I have a few, but the one name I absolutely love is Rookie's Gambling Chance -a show name for a quarter horse that I hope to own one day- barn name: Gambit. It's a bit of a play on the chess move called a gambit which can only be done with the rook piece.
Hero
(Emily, West Meath)
The pony is a great pony at shows - the pony would do everything right and the pony would be your hero!
Return To Sender
This is my eventer's show name. I named her this because when I got her I didn't like her at all! she was only a year old and she didn't know anything! she is now seven and I am proud to say that I have trained her all by myself and we are now competing successfully at the novice and pre training levels.
More Horse Show Names
If you did not like any of the horse show names above no worries there are tons more below. Further down the page you will find even more horse show names shared by other horsecrazygirls like you!