Alien Attack on an Astronaut
by Katherine
(Sarasota, FL)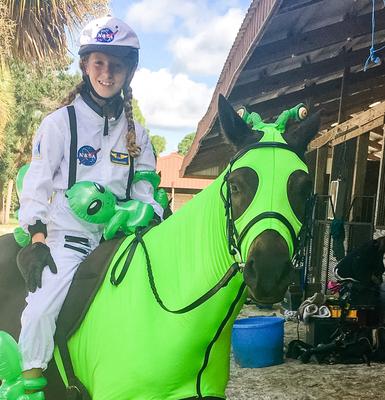 Alien Attack!
This page contains links that may earn a commission.
How did you make it?
We used a neon green sleazy hood and green hair extensions for his tail. My daughter wore an astronaut outfit with her riding boots and helmet (the NASA cap is glued onto her helmet). We fitted alien eye tentacles onto his black bridle. Then we used "hugging" alien inflatables as additional attackers!
How much did it cost?
The most expensive part of the costume was the sleazy hood, but that can still be used for its original purpose ($60). The astronaut outfit and alien accessories were around $40.
Where did you wear it?
She wore it at a local horse show for their Halloween class.
How did people react?
The costume was a hit! They won the grand prize.
How did your horse like it?
He didn't mind the costume at all--but we've worked on desensitizing him with plastic bags and balloons.