Sea(horse) creature
by Karen P
(Hollywood, CA )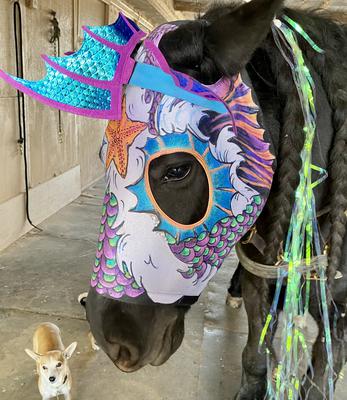 Seahorse and puppy
How did you come up with your costume idea?
I was inspired by some iridescent tinsel that looked like jelly fish tentacles. I also had beads that looked like water drops and shells to add to her mane. It all came together with a fin headband!

How did you make it?
I started with a SleezyBarb face mask and fabric markers. After I drew out the idea, I colored it in and added beads and glitter. For the mane, I hot glued the iridescent tinsel to starfishes and added beads to make it glimmer. Finally I added the fin headpiece to make the look complete.


How much does it cost?
The face mask was $20, and the tinsel and beads were $10. The head fin was $8. The starfish were $5, and I already had the markers and glue. Altogether it was under $50.


Where did you wear it? We have a Halloween party at my barn and then we all ride on the trails in costume up around Griffith Park around the Hollywood sign

How did people react?
All the tourists on their way to visit the Hollywood sign lose their minds and want to take selfies with her. She loves it!


How did your horse like it?
My Fell pony loves to dress up and take photos. She will smile and ham it up for the camera. It's clear that she would like to be a full time seahorse!