Super Mario
by Gina
(Maryland)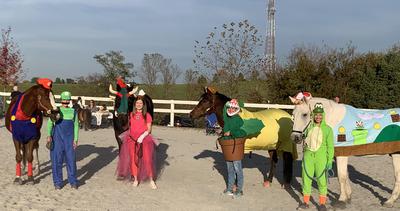 How did you come up with your costume idea?

I thought of this last year when I was trying to think of creative ways to utilize a blanket, that's when I thought of the game scene. Then, I realized I had a big group who wanted in and Mario has such a good and fun cast of characters it was the perfect way to involve everyone and have something kids and parents would enjoy.

How did you make it?

Below are some highlights of each character

Me as Yoshi - I purchased a cheap green sweatsuit online and enhanced it with felt, a mask and most importantly made a "backpack" shell out of a styrofoam wreath base and styrofoam half-sphere that I glued together, painted red, and attached straps.

Sully as Toad/the game - I cut the Toad face out of felt and then hand painted the details. The blanket representing the game is felt with felt pieces glued on. The more detailed pieces like the star, coins, piranha plant, mushrooms, goombas were all cut out with my Cricut machine and ironed on to each side to create the scene.

Fu as Bowser - Bowser's shell was all trial and error. It is made with felt, poly-fil, styrofoam cones, masking tape and a combination of sewing/hot glue. His necklace and bracelets are a belt or pastern boots with more styrofoam cones. His flymask has red fuzzy fabric pinned on for eyebrows and his hair was shaped with more styrofoam.

Zellie as Princess Peach - She has a homemade tutu and tshirt made with the Cricut. Her crown is also homemade with foam.

Lulu as Daisy - her costume is an extra large sleezy with foam accents and foam crown

Mirrel as a piranha plant - she purchased a plastic pot from Home Depot and cut out a hole to wear it. The hat was purchased but leaves made out of foam.

Meatball as Mario - we took a red shoulder guard and pinned felt overalls and buttons that we cut out. We also made fleece polo wraps and a felt mustache. The hat was already owned and stuffed with poly-fil and pinned to his halter.

Emily as Luigi - this costume was borrowed from a friend but mustached made from felt to match Meatball's perfectly.

How much does it cost?

A lot of supplied, props, and materials were already owned but we did buy some hats and supplied. Overall it probably cost each of us $40-$50 on average

Where did you wear it?

Our farm has a Halloween parade every year and we look forward to it every year. We had about 30 horses dress up and 50 kids and we parade around our large outdoor arena while parents hand out horse and human treats

How did people react?

All the costumes were so creative this year with the kids so everyone couldn't believe the work everyone put in. Ours was received with smiles even from those who didn't know Mario very well. I received a lot of compliments on the work I did with the Cricut and Fu's Bowser shell (which is great because both of those were the most work!)

How did your horse like it?

Luckily our horses are saints and barely blinked an eye (Sully was practically half-asleep for the whole parade!). When making these costumes I try to have the worst that can happen in mind and work around potential problems. Meatball went a little bug-eyed when he saw all the parents with treat tables but quickly calmed when he realized the tables had treats for him. We think he genuinely liked his mustache!