Virtual Horse Games
Here is my directory of the best virtual horse games! Try them out, then come back and share your reviews and tips for playing them!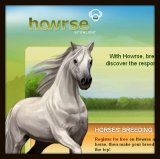 Howrse
Howrse has lots of fans. It lets you create a horse online and do all kinds of cool things. It's hard to believe you can play it for free. But it is a little hard to get started and you have to read a lot of stuff to figure it out.
Click here to go to our Howrse page
Horseland
Horseland is very popular. It's a fun SIM horse game that lets you choose a horse, then ride and jump it.
Click here to go to our Horseland page
Horse Isle

This is a fun online horse game. It kind of reminds me of Animal Crossings for DS. It's tricky but also addicting...it's one of those where you can play for hours and not realize how long you've been on it!

Click here to go to our HorseIsle page
MyStable
With MyStable you get your own stable, and you can buy a horse then you can train it, enter shows, breed it, and care for it. It's fun and very popular.

Click here to go to our MyStable page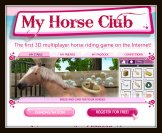 My Horse Club

This game has the most amazing graphics I have seen yet in an online horse game. You actually get to ride your horse, and you really post!

Click here to go to our My Horse Club page