Happy Trails Flight of Fancy
by Sydney
(HorseCrazyGirls.com)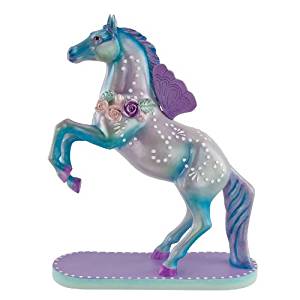 The Trail of Painted Pont collectable Happy Trails Flight of Fancy. It shows a silver horse with blue highlights on its head, neck, and legs rearing on a purple and blue base. The horse has purple butterfly looking wings attached near its withers and has white dots across its body. There is also a wreath of purple, teal, and cream roses around its neck. The horse's mane and tail are also blue and purple. The horse's hooves are purple.
This page contains links that may earn a commission.
From Amazon:
Using the horse as a canvas, Trail of Painted Ponies figurines share a diverse array of spectacular artistry through intricately detailed figurines that tell a story. Perfect size and price for gift-giving!
Butterfly wings carry "Flight of Fancy" over the meadows. Soon she discovers that if she believes in herself, she can soar beyond the clouds.
Artist: Jesse Leach