Lenox Horse Collectibles
Lenox horse collectibles are equine-themed figurines that make great gifts for girls who are crazy for horses. Created and distributed by Lenox Corporation, one of the leading and trusted tabletop, giftware and collectible companies, these are timeless, high-quality pieces that exhibit amazing craftsmanship.

Here are some Lenox horse collectibles horse-loving girls would surely adore!

Rubies and Roses is one of their best-selling carousel figures, inspired by the fancy carousel horses of Coney Island. This unique horse collectible features a sweet pose and is intricately designed with ruby-red crystal jewels, red roses and 24-karat gold. (It's my favorite too!)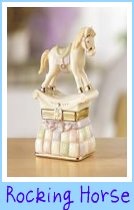 Rocking Horse Treasure Box is a thoroughly hand-painted, gold-accented charming figurine that's sculpted in ivory china. This simple but elegant horse-themed box is a great place for horse crazy girls to store their little treasures!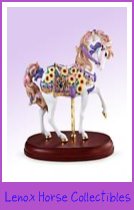 Sapphires and Sunflowers Carousel Horse is another one of Lenox's imaginative and magical porcelain carousel figures. This eye-catching figurine is embellished in crystal gems and 24-karat gold. It also features a lavish curly mane and exquisite hand painting.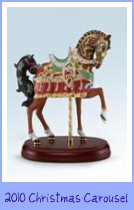 The 2010 Christmas Carousel Horse is a limited edition and is the company's symbol of peace this year. Its design features medieval armored saddlery that's festively decorated with berries and ribbons.
Get into the gift-giving spirit of this year's holiday season and make a horsecrazy girl happy with these gorgeous Lenox treasures!

HorseCrazy Girls Favorite Horse Collectibles...
Click below to see what other collectibles Horse Crazy Girls Love!
Horse Whispers Horse Collectibles

Horse Whispers is a new line of horse figurines and they are absolutely gorgeous! Now I know exactly what to get for all my horsecrazy girlfriend's birthday …
Lenox Snow White's Dream Come True Not rated yet
From Amazon: This romantic vignette stars Disney's Snow White and her handsome Prince Charming in ivory fine china. The detail on …
Lenox Mickey's Carousel Romance Not rated yet
An ideal gift for a horse-loving Disney fan! From Amazon: Lenox Mickey's Carousel Romance. Minnie Mouse joins her honey Mickey …