Get Your Own Riding Stable Website Page in Just Five Minutes...It's Free And Super Easy!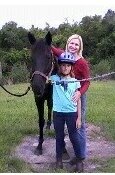 If you can type, you can build your own riding stable website listing! Just use the form below to type in the info about your riding stables. Upload up to three of your own photos if you can (horsecrazy girls LOVE horse pics!).

That's it! It's free and easy.

Why do I offer you a free webpage listing?

It's simple. You get to tell people about your riding stable, and I get more visitors to my site -- so we both benefit.

Just enter the name of your stables below and start typing. You can even upload three photos...all for free!

Fill out this form to create your free riding stable website listing
Learn How to Get More Traffic to Your Own Riding Stable Website!

Once you see how easy it is to use this service, you may want to build your own riding stable website like we did.

Why?

 You'll have complete control. No more waiting for your webmaster to make changes to pages, or telling you want you can and cannot do.

You can build a second income on the Internet. (I love it when I wake up and find that I've made money on my site because girls in Australia were playing games on my site while I was sleeping!)

Not sure? You can read my Mom's story below.

But first, don't miss the free course on how to build a riding stable website that really works. Just click on the free report link below and a box will pop up asking you to open or save it. (Don't worry, it's completely spam-free.) Then save it to read later... or go ahead and open it, grab a cup of java or Red Bull, and read it right now.

Click Here to Download Our Free Report: How to Build a Riding Stable Website (Or Any Service Site) That Works!

Sydney's Mom's story:

In my "day job," I've been online for many years. I've worked with all kinds of websites and webmasters. I am a writer, though, and I knew just enough about websites to be dangerous!

But after too many frustrating website experiences to count (and not enough money to pay one of the "big boys" for a site), I decided to find a way to build my own site, or at least one where I could have control over it and not have to turn to my webmaster every time I wanted to change a paragraph or post a new page.

So I started searching for a way to do it myself.

First, I took a website building course at my local community college. After struggling to build a single page, I knew that learning to do one right would easily become a "second job!"

I also discovered that building the page was just the beginning. I would also have to learn about search engine optimization so my site could be found on the search engines, web analytics, spiders, autoresponders, and all kinds of other issues. I just didn't have time for that.

So I started searching again -- this time for the right service or webmaster to help me do it myself.

One company charged me $1200 to create a basic website that I disliked so much I was embarrassed to send people there. It was also clunky to make changes - they just didn't look right.

But it was supposed to be a "bargain" and I didn't have the time or energy to start from scratch so I just left it there. Then two years later I got another bill for nearly $900 for the two years they had been "hosting" that site!

I kept looking...

Another webmaster charged us $450 to investigate options and find us a way to do it ourselves. She was nice enough but came up empty handed.

A webmaster who sounded like a genius and said he could do exactly what we wanted took $3000 to get us started...then took off.

I found another solution on the web that sounded good and signed up for $79/month, but then I still had to hire a webmaster to design the site. We paid her almost $1000 and she found out the service was so bad that she didn't recommend we proceed. We were still out that money and back at the beginning.

(See a pattern here??)

Finally we found someone else who could do what we wanted. They did the job but it cost over seven thousand dollars and certain changes we needed along the way required us to pay $125/hour!

Needless to say I was totally burnt out. (It's still painful to see how much time and money I wasted.)

Then a web expert I trust told me that there was a solution for what I wanted. She told me it was easy, worked, and would cost me only $299 -- for the entire service, for the entire year.

I thought it was too good to be true, but I couldn't resist. I plunked down my credit card and decided to give it a try.

Just for fun, I decided to create a site that would totally different than what I did in my day job. One of my goals was to help my daughter (then 8) start a business so she could achieve her dream of owning a horse. So we came up with HorseCrazyGirls.com.

The search is over!

I'll be perfectly honest, the first few months we did practically nothing with the site. We just let it sit there. But once we started building it, we found it to be just what it promised:

Easy enough that anyone can do it with great videos and written manuals that anyone can follow.

To make a long story short, within a year, we had recouped our original investment, we are making money and the site is growing almost faster than we can keep up!

I have no doubt in my mind that this site will not only allow Sydney to buy her horse, but will also provide for her college education and give her a headstart on her future.

We are so thrilled we've turned other friends on to the service, and they love it!

So if you've been struggling with your website because of time, money, knowledge or all three, I hope you'll check out the same service we use to build HorseCrazyGirls.com.

I'll be more than happy to answer any questions you have about it! Just drop me a line and we can chat by email or phone. (When you fill out that form it's OK to include your contact info. We just don't collect email addresses or phone numbers from kids for safety reasons.)

Other Submissions
Click below to see contributions from other visitors to this page...