Horse Blog
The HorseCrazyGirls.com horse blog lets you know what's new - from other horsecrazy girls like you. See the latest horse game reviews, fave horse names, equine books and movies, pony pics and much more. Be sure to share your faves with all of us too!
Your horsecrazygirl-friend,
Sydney
Jul 20, 2017
If wishes were horses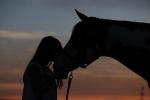 Chapter One Kylie Rivers brushed a lock of her curly brown hair out of her eyes and peered at the horse books. Kylie! Time to go! Her Mum called.