Horse Halloween Costumes

Here are the entries from a previous year's HorseCrazyGirls Horse Halloween Costume Contest! Aren't they creative? Make sure you check out this year's contest!

---
Check out these awesome horses and costumes!

---
Be safe girls! A horse can spook if your costume is flowing, or noisy, or has unusual smells or textures.

So think about that carefully when making and choosing your costume:

* Give your horse a chance to sniff and see every piece of your costume before you mount your horse.

* Use only safe materials - glitter, glue, dyes or paints should be non-toxic. You don't want to give your horse (or you) an allergic reaction!

* Always wear your helmet when you are on your horse. If you're worried it won't look good with your costume, consider a helmet cover. Better safe than sorry!
---
---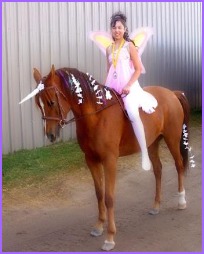 ---
Best Halloween Horse Costume Ideas from HorseCrazy Girls!
Click below to read about awesome Halloween horse costume ideas horsecrazy girls have shared...