Want Free Horse Stuff?

Enter our competitions!
Don't you love free horse stuff? So do I! So every month or so I run a "competition" where you can win prizes like books, horse movies, or games. Our competitions are online so anyone can play - and they are always free...and fun!
New Contest: Horse Book Giveaway!
Do you love to read books about horses? I do! So I am giving away some fun horse books. I have a set of five Heartland books to give away. 
Plus each winner gets a gift certificate for a free game like Planet Horse or Ride Equestrian simulation.
Read the contest rules and enter below. 
a Rafflecopter giveaway
The Perfect Distance Book Winners

Congratulations to Alisha, Tania, & Caylee for winning copies of The Perfect Distance Book by Kim Ablon Whitney!

Previous Winners
Platinum Performance Equine Contest
Congratulations to Heather for winning a one-month supply of Platinum Performance Equine!

2014 Horse Halloween Contest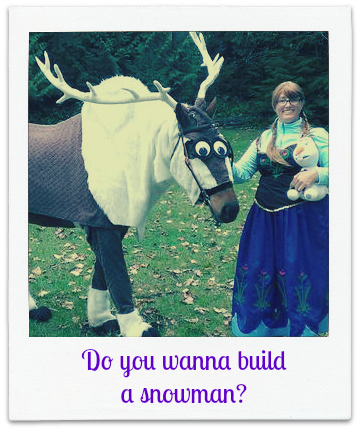 Sadly her horse passed away several days after the competition but we are so happy he went out in style - and as a winner! He'll always be on our hall of fame.

Social Media Contest

The social media competition is over and we are notifying the winners by email: Jesse W., Natalie D., Ashley B. and Anna M. Congratulations and thank you to all of you who participated!

Awesome Horse Treats And A Horse Game Contest

Congratulations to Grace from California for winning awesome horse treats and a horse game!

Halloween Horse Costume Competition 2013



Our first place winner in the 2013 Halloween Horse Costume Contest was: Bella & Khate!

More awesome horse Halloween costume ideas

Halloween Horse Costume Competition 2012

The first place winner in our Halloween Horse Costume Competition 2012 was Jessi and Dexter!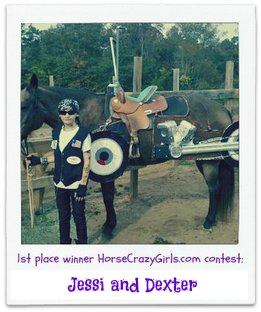 Horse Whispers Figurine
Marina from France won a beautiful Horse Whispers figurine!

Previous Book Contest
Erin from Missouri, USA, won a copy of The Girl Who Remembered Horses.

The book The Perfect Distance went to Stefanie from Blair Nebraska USA, Monique from Tallangatta, Victoria, Australia; Celine from Canada and PaintedGoatLady.
Grace won the first book giveaway for the books Dark Fire and Desert Song.

Sisters Makayla, Sophia and Arabella won the second book, Samphire Song.

Taylor from Australia won the first Horse Diaries book. Lucinda won Justin Morgan Had a Horse.

Emma won the fifth book giveaway for the book Puddleby.

Rachel won a copy of Wild Girl.

Yvette won the first two books in the Timber Ridge Series by Maggie Dana: Keeping Secrets and Racing Into Trouble.

Congratulations!
Horse Halloween Costume Contest 2011
The winners of this competition were:

First Place: Batman Halloween

Leke's friends laughed at her but we think they were wrong. What do you think? Batman halloween costume

Second Place: Dressing Up as a Horse

Mackenzi's grandma made this costume so she can dress up as a horse. Isn't is adorable? My horse costume

Third Place: Time for Some Fun With Disney

This costume is super cute and love the fact that she used her riding helmet as part of the costume! (Always be safe.) Disney horse costume

Even though this contest is over, you are still welcome to share your Halloween horse costume ideas and photos for fun!
Share Your Horse Halloween Costume Idea Here
Best Horse Themed Party Ideas
The first place winner of this competition was Madison:
Second place goes to Anna:
Hold Your Horses You're Invited!
Third place is a tie between Anna from England and Carrigan (from Canada):
My Amazing Horse Birthday Party
Horsey Birthday Party on a Budget

Free Games - Planet Horse and Ride! Equestrian Simulation
Our winners for this contest: Morgan B., Mandy P., Kelsie S., and Savannah N. We have notified them by email. Thanks for playing!
Sign Up Here to Hear About Our New Contests!
Sign up for our free horse club ezine and we'll let you know as soon as new competitions are starting. We won't use your email for any other purpose than to send you the free HorseCrazyGirls.com Horse Club email newsletter.

Find more fun kids contests here!
Return to Top of Page: Free Horse Stuff
Are you horse crazy? Join our free horse club!
Fun
horse games
and lots more!
By
Sydney
, Copyright 2007-2015 All Rights Reserved