Wild Western Horse Party
by Madison
(La Mesa, CA, USA)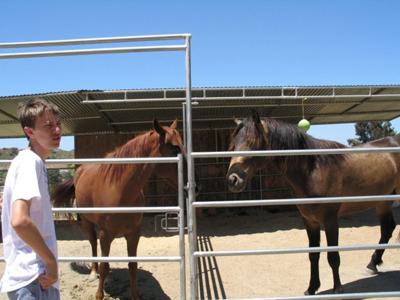 Ranger and Hecules (and my cousin)
If I was going to have a horse themed birthday party, I would go all out! Starting with the invitations. I would like them to be cute and fun! I would make an invitation that looked like a WANTED poster. I would put the person's picture on the WANTED poster and at the bottom say; For Maddy's 14th Birthday Bash! On the inside there would be a couple cute, small pictures of horses! I would use exciting words like; SADDLE UP AND MOSEY ON DOWN! Give all the information about the party.

Then the decorations would be so amazing! Horse plates,cups, napkins, balloons, and confetti! I would have colorful streamers and other balloons everywhere!!! For center pieces on the tables I would put sunflowers in a plastic cowboy boots!

Now for the cake, I would make it super cute and as realistic as I can. I would love to have a two tier round cake. The first tier being a field with flowers and a fence, and my name written out in a pretty western looking font! The second tier would be a big red barn with a horse sticking out of the front, and a model chocolate of me next to the horse! It would be vanilla with raspberry filling, and red velvet with cream cheese filling! Plus a cute yellow bird on top of the barn!

For party favors I would get cute little stuffed horses, some stickers and put the stuffed horse in a little box that looked like a barn! Plus candy, bubbles and little games that have to do with horses! I would also throw in a cheap, cute cowgirl/ cowboy hat.

I would have this party at my aunts house because she has three horses. At the party everyone there would get a turn to ride one of the horses and brush them. Since my dad is a really good photographer (anybody taking the picture could work) I would let everyone get their picture taken with one horse or all the horses. Then later send the picture(s) out with the thank you letter. If you don't have horses or know anyone with them you could go to a stable and take pictures and ride there!

Fun things i would to at my birthday party is; make horse treats! Its easy and cheap! For anyone that wants some treats could take them home. I also think it would be really cool to paint and decorate horse shoes! And of course play horse shoes. If I have enough money for a jumpy I would get a horse one!

I would play lot of country music, and dance! A fun dance to do that is also easy to learn is Hannah Montana's "Hoedown Throwdown"! One of my favorite dances! Another fun thing to do would be having a roping contest! You could have different objects to lasso, whoever lassos the most wins a prize.

Another game that would be fun is whoever makes the best horse noise! So I would be the judge and all my friends would make horse noises! I pick the best one and that person gets a prize!

I know a lot of fun arts and crafts me and my horse crazy friends could do! Like; making doorknob hangers,frames made out of Popsicle sticks, I would aslo buy so cheap ribbon with horse on it and make hair bows, and decorate hard plastic water bottels, with things such a puffy paint and horse sticks! That way when my friends and I go riding we dont use a bunch of plastic water bottles! (be green!)

I hope you enjoyed my party ideas! God Bless!

Madison M.