Awesome Horse Treats
by Sydney
(HorseCrazyGirls.com)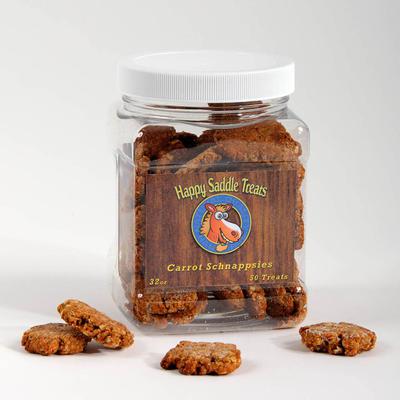 Happy Saddle Treats
OK - I have two questions for you:

1. Is your horse spoiled?
2. Have you ever tasted your horse's treats?

My answers are: yes (my horse Sinatra loves his treats!) and yes of course I've taste a few - and not all of them tasted great. And it's a kind of weird when you read all of the ingredients on some of the them and you don't know what half of them are right?

So that's why I am so excited to learn about Happy Saddle Treats for horses. Not only are they created by a horsecrazy girl, Brigitta, but she is trained as a chef! I think that's awesome. She wanted her horses to have yummy treats that are healthy and all natural so she created her own recipe. She uses carrots, oats, flours and spices that are safe for horses to eat. In fact, you can even try them yourself!

While my horse is perfectly happy with a carrot or peppermint I love having cookies on hand for him because they keep well, and I don't have to worry about whether I remembered to pick something up fresh at the store. Plus I love the individual size. I've seen a horse choke on an apple and with these treats so you don't have to worry so much about whether they might choke like they can on a whole carrot or apple.

Brigitta says she experimented for a while to come up with her recipe. She has been riding for about four years, and rides English. She has a 10 year old Haflinger and her boyfriend has two.

What do you think? Would your pony or horse like these treats? What is their favorite treat now? Share your comments below!