Help please! Need tips...
by Abbi
(Oregon)
I'm in horse 4-h. My leader leased me an ugly biting,kicking, rearing bucking horse that's in NOT an easy keeper and I'm just a novice.

I need tips on the following:



grooming supplies, and where to get it;


mane and tail untangling;


teaching horsey manners, and;


how to build a relationship with my horse.


Thanks guys!
Getting a New Horse! Need Advice!
by Brianne
(USA)
I'm getting a new horse because my first pony, Candy Man is 12.3 hh. Now I'm 4'11 I have sadly outgrown and have sold Candy Man!

My parents are letting me get a new horse, since I have a lot of exp and knowledge with horses, now have been riding for 7 years I am thinking about getting a young horse. But still looking for an old for more confidence.

I am a jumper I jump, 3'0 but I love Dressage, Cross Country too! I have found some horses now I just need to choose one:

*- Maid In Manhattan aka Aurora .

6 year old pretty "A" circuit been there done that flashy young mare. Trained to event, has won many ribbons. Chestnut with 4 white socks easy to bath clip load vet etc.. No vices 15.3 Hanoverian. Spooks on trails, hasn't done much X-country very brave and easy going. Quite a buddy.

*- Jetz aka Kool Your Jetz.

16.3 hh Black & White Pinto Saddle bred Stallion, 4 year old. Put in training as 3 months. X Race horse. Being used as hunters or flat riding at the moment. Barefoot, no vices,light on his feet, acts like a exp horse. Loves attention and to be riding. Not so much a steady Eddie needs a confident rider.

*- Silver
•2004, 16.2hh Dapple Grey Warmblood Mare
•This stunning mare is beautiful and talented. Currently jumping 2'9 to 3'6. With loads of potential to make the 1.20 (4ft) and higher. Would make a great jumper. Very careful. She will win! If you are looking for a horse to take you into the higher rings, she is a mare that you don't want to miss.

*- Connect The Dots

Fancy "AA" 14.3 1/2 2001 Grey Welsh Pony Mare, lots of exp in hunter/ jumper ring. Training in dressage, mounted games and cross country. Many wins shows up to 3'0. Auto changes, no vices easy to haul/ trail/ loud/ vet. Easy going can be riding by anyone. No spook. Safe and Honest, good ride. Don't miss! Daughter has given up riding reason for selling.


I Need Tips!
by Jordyn
(CA)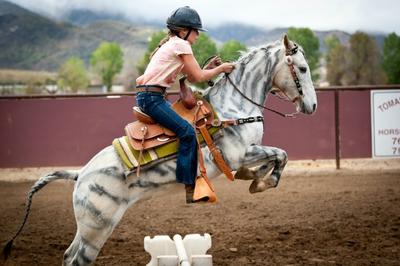 Me (there was a costume contest earlier that day and I had a seven year old paint him as a zebra big mistake)
I have a little 12 hand welsh mix who hates jumping although I Ride western I do gymkhanas. You might not know about them but essentially you run around poles and barrels in little events to get the best time and win well there is jumping event Hurry Scurry where you jump three little white 18' jumps.

Every time my pony jumps he stalls a little bit them he jumps three feet over the jumps and its really annoying I try to do the two-point position but it made my horn hit my ribs and bruise me.

Please help and give me some tips.
Help! I Need advice!
by Maria
(MD)
Okay, so this isn't a story but I just turned 14 and we're going to move and I can get a pony.I know lots about horses and I'm considering training a yearling. I haven't ridden much but when I do people say I have a natural seat. Should I do it? I love challenges... please help!
My horse is barn sour... any tips?
I have a 10 year old quarter horse gelding and he is really barn sour. I can't have an enjoyable ride out in the pasture without him getting hyper. I need some tips on how to correct this. Please reply!
Any tips on how to ask your parents for a horse?
by Sienna
(Nsw, Australia )
Hey my name is Sienna and can I have some tips on how to beg your parents on buying a horse? Thanks!
My Bucking Bronco Ember (Tips please!)
by Meagan
(Central Arkansas)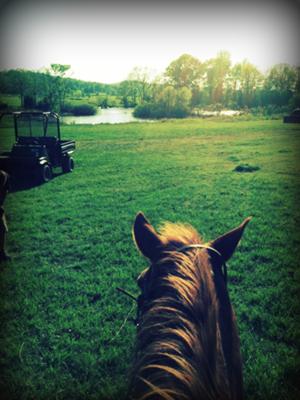 In Her Calm Moment
This is my horse Ember. She is a 11-12 hand Welsh pony. This spring, her former owner told me that I could have her if I wanted. I was more than thrilled! Who wouldn't want a horse of their own right?

Anyways, what the owner didn't tell me was that she had not been ridden in over 2 months. When I got on her she bucked and kicked. She refuses to listen to what I say at any time! I have ridden her several times now, and she is getting better.

Now, she just trots off and won't stop for anything. Her biggest problem is wanting to graze while under saddle. What happens is that when she goes down to graze, I gently pull up on the reins. The problem though is that she gets very frustrated after 5-6 times of me telling her gently (yet firmly) that grazing is not okay, and she trots off and starts bucking...

I am 16, and I do have experience with horses. However, I am not used to training a horse not to buck or graze while under saddle. All horses I have ridden have been those "dead broke" horses, who may pitch a fit once in awhile.

Ember does fantastic on the ground. I hardly ever tie her up. She just stands there and lets me brush, groom, do hoof care, and groundwork with her! Even during the tacking process she has NO issues whatsoever. She is a model horse, and very sweet! Just not under saddle...

To help with the grazing process, do you think grass (anti-grazing) reins would help? Any tips or comments would be more than helpful.

If you think you could help me, please comment here. Thank you guys so much!
Building trust... again! (Tips and advice appreciated)
by Lucinda
(NZ)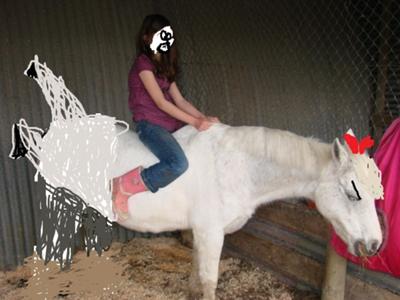 me and bella before the holliday
Well I went on holiday for a week, my eldest sibling Danni stayed at home to look after my pony Bella.

Unfortunately when I got home Bella didn't recognize me and she thinks she's the boss but worst of all, I have to build up our trust again! She only just started to trust me as I got her in July.

I have to get our bond up again any tips would be appreciated. Bella now threatens to bite me when I'm picking out her hooves, mounting her etc. Danni asked little of her so she thought she was retiring or something (she was 21 on 23/1/12) but now I have to get her used to my weight :\ so I cant ride her for a while :|

Help! Tips for bonding would be good and tips for letting me ride her. Thanks! :)
I need tips for getting a horse!!!???!!!???
by Celina
(AB, CA)
I used to have 2 horses but then I moved and had to leave them behind at the stables I rode at. Now its like my parents forgot that I used to have to leased horses.

I took lessons every week, I went to theory lessons once and occasionally twice a week, I've been around them since I was a little kid. I read info about everything about them but i still can't get 1.

I think it just needs time, and maybe we should talk about it, and find a place to keep the horse if I were to get one.
Any advice on cantering?
by Sienna
(Nowra Hill, NSW, Australia)
Hey I've just learned how to canter but my feet keep going right into the stirrups!! Can you please help me??
Tips, Please?
by Sophie
(Mesa, AZ, U.S.)
Okay, so I've wanted a horse for 3 years now, but I still don't have one. I've been begging my parents for one, BUT I CAN'T WIN THEM OVER FOR A HORSE!!! Does anybody have any tips? If you do, I will use all of them for sure! Thanks!!!!!