Mister Ed
by Makena
(California)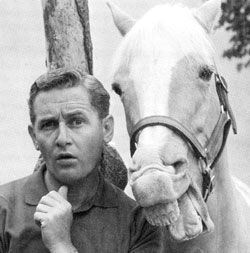 Mister Ed the movie is from the old days and is in black and white. My uncle used to watch it. It's so cute! Ed always gets into trouble. He talks.
From Amazon:
Architect Wilbur Post (Alan Young) and his wife Carol (Connie Hines) have settled into a beautiful new home, complete with a barn in the backyard... and a very unique tenant.
Wilbur finds that the former owner has left his horse behind. He soon discovers that this is no ordinary horse, as the eloquent Mr. Ed can talk, but only to Wilbur!
The anxious architect and the pontificating palomino soon become the best of friends, leading to all sorts of comedic misadventures.