The Wild Stallion - Prologue
by Danielle
(Texas)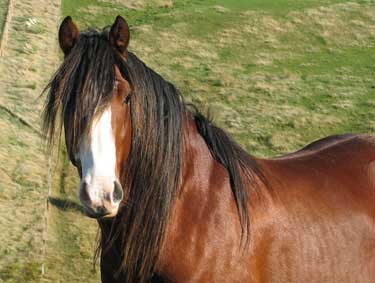 The lead stallion
The wind howled and the thunder rumbled deafeningly as hundreds of wild mustangs stampeded over the grassy plains. Every horse of every herd screamed in fright as lightning flashed through the sky. Every herd found shelter, except one. This herd consisted of a bright bay lead stallion, a dappled gray lead mare, her foal, and 2 other mares. They had chosen the wrong path, and they had ended up lost in the frightening storm.

The lead stallion had no idea where to go. He looked around, and saw nothing but grass and trees. Thunder rumbled again, and the lead horse reared up to the sky. Since he didn't know where to go, he guessed. He herded his mares north. They walked, and walked, until they finally realized they will never find their way back.The stallion herded his mares towards a group of trees. Then the dangerous happened. Lightning struck one of the trees, and the tree fell.

The lead horse chased his mares out of the way, but only the foal, and the other mares. He had forgotten his lead mare. He called for her. Hearing him, she galloped towards him, and she almost reached him, until the unthinkable happened. The tree had toppled right onto her! Terrified, the rest of the herd trotted over to her. Her body was crushed, with her legs and her nose sticking out. The stallion sniffed his lead mare's lifeless body. She was dead.

Horrified, the 2 mares, the foal, and the lead horse walked away. They knew they would never see their mare again.