My cousin's foal Breezie
by Reina
(Kansas)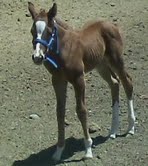 A chestnut foal with a white blaze wearing a blue halter standing in a field. The foal also has two white pasterns on its front legs and two white socks on its back legs.
Okay, this summer I went to Utah and I got to see my cousins whom I haven't seen in 4 years until then. On my fourth day there my oldest brother took my little brother and me to go see them.

While I was there I got to see Cashe (the horse who bit my shoulder when I had a sunburn). I also got to see my cousin's pinto mare and Breezie along with other horses.

Here is the story, a short one, about Breezie. One day my cousin took her pinto mare out on a ride having no idea that the horse was ever pregnant they took about a 30-minute ride and went back home then the mare gave birth to a foal. The foal was a beautiful bay filly.