Make a DIY Horse Ornament
by Sydney from HorseCrazyGirls.com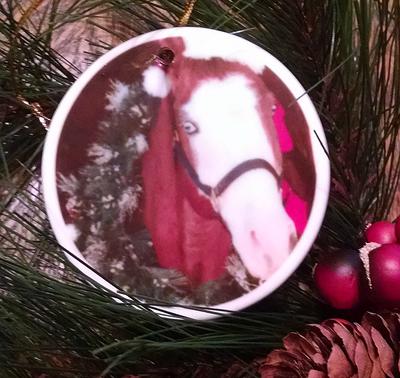 I want to show you how to make a perfect gift for someone who loves horses: a lovely horse ornament. You can either purchase one with my handsome boy Sinatra's face (for someone who doesn't have a horse) or you can quickly customize with your own horse picture!

Here's a link to my Zazzle store where you can get or make your own!

If you want to customize your ornament, here are step-by-step instructions.


Step One: Get Your Picture Ready
These ornaments come in a variety of shapes. I chose the round one but you can choose any one you like. But if your picture doesn't match the shape of the ornament, you can just use the free website
PicMonkey.com
to crop the photo to the right shape. It's super easy. Plus you can add all kinds of other effects that can make your photo really stand out!
Step Two: Add your photo to the ornament in Zazzle
Again, it's really simple. Just click the word "customize" and it will walk you through the steps. Make sure you leave some white space around the edge or it may not look right. They show you how to do that, so follow the instructions.
Step Three: Add text on the back
Add your text to the back. You can change the font and the color. (Click on the little button that says F to choose a font and make sure you then click save.) You can also change the color of the back. For the one I made for my tree I chose purple because, well, you know I like purple!
It's super easy and will make a keepsake to be treasured every year.
Have fun and if you make one be sure to leave a comment below.