Horse Images
Here are adorable horse images shared by horsecrazy girls like you! Click on each photo to learn more about that horse!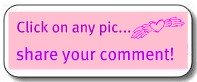 Washing a Pony: If you are taking your pony to a show, you may want to give it a bath to get it really clean. You must only do this on a fine, warm day without a cold wind, or it will get a chill. If the weather is cold and wet, give it an extra good grooming instead. Here's how to do it...

To learn more, read Buying and Keeping a Pony by Sandy Ransford.