Hollywood, American Pistol - Chapter one
by Hannah
(Oregon)
******AUTHORS NOTE! ***********************************
the horse in this story is one of my real horses but however the story is all made up.
i hope you enjoy!
comment and rate!:)
********************************************************
Hollywood waited in the gates, hoping the torture would end soon.
As the gates slammed open he burst out bucking and bolting, doing anything to stop the pain of the tight leather strap they called the " Bucking strap".
His rider fell off hitting his head on the railing. paramedics rushed to the seen living Hollywood fighting the pain in the background.
Later that week Hollywood was sold to an auction. A grubby pale man offered 25 bucks for him. Roughly loading Hollywood into the crammed trailer that wait outside, the man slapped and pushed the young colt to the ground beating him with a leather whip. What had Hollywood done wrong? After recovering to his feet Hollywood hoped for the best in the coming adventure.
The trailer smelled horrible and horses were weak, beaten and skinny.
There was no food or water offered to any of the horses nor himself.
This trip seemed to go on for at least 5 days. Finally the trailer stopped and Hollywood peered through his small window to see a tall white building where horses waited in a tight line to enter the building.
" Fight with all you have!" a White mare shouted to Hollywood as a man stuck a rope around his muzzle and ears.
Listening to the mares words Hollywood reared and slashed the mans hands from the rope.
Sputtering Hollywood reared again knocking two other men off their feet.
But then the grunting of the grubby man who had bought Hollywood got closer.
With his worries high Hollywood veered around the corner with full speed. Headed straight to the man, Hollywood reared and his hooves pounded the mans bald head throwing him to the ground.
" Go now, all of you! before the slaughterers come out and find you! leave us we will be okay." the mare now whinned loudly to them.
All fifty horses Bolted from the trailer. Hollywood's freedom had finally come but with a hard price to pay.

LOOK FOR CHAPTER TWO!
THANKS FOR READING!
COMMENT AND RATE!


Click here to read or post comments
Return to Horse Training Stories.
Hollywood, American Pistol - Chapter two
by Hannah
(Oregon )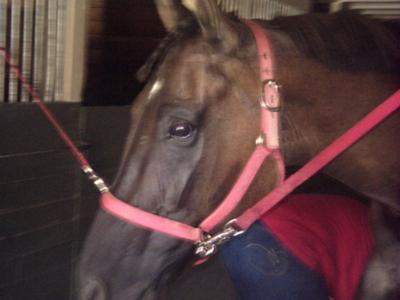 TRIGGER
Running free at last Hollywood's heart had sparks flying with joy. Freedom has come.
Jumping a white wooden fence Hollywood found himself among lots of other horses all grazing the grass. They seemed to enjoy this. Then a noise sounded at the gate of the green pasture.
" Trigger, Holly!" a young girl around 11 shouted. Two of the horses ears perked as they raised their heads and trotted to the girl.
She seemed to love these two horses. She kissed their muzzles and patted their necks as she gave each a slice of apple.
" Okay, let's go for a ride," she said putting a halter on both of them and leading them out.
" Oh no! She is going to ride them!" Hollywood nickered loudly. The girl turned in confusement knowing that was not the nicker of any of her own horses.
Dropping the lead rope and gasping, the brunette rushed to the gate with wide eyes gazing at Hollywood.
" Hollywood's American Pistol!" she shouted jumping up and down. " My favorite Rodeo horse! I have wanted you since the day I bought my first horse!" she shouted even louder.
Hollywood finally figured out she was the girl who was always calling his name in the stands at the rodeo.
This girl had always gave him hope. She jumped over the gate not bothering to open it. She slowly jogged to Hollywood who stood like a statue. She stuck out a hand to let him sniff.
Taking this offer, Hollywood sniffed the sweet smell of the apples this girl had handed to the horses called: Trigger and Holly.
" Oh! You want an apple don't you!? Silly me." She said reaching in her back pocket and pulling out another apple.
Resting it in her loyal hand she reached her arm to Hollywood's muzzle once again.
Hollywood slowly took his lips to the juicy apple, taking his tounge to the apple now and licking it up into his mouth to chew.
"Good boy" the girl complimented Hollywood patting his forehead.
From then on Hollywood knew they would be good friends.

LOOK FOR CHAPTER 3!
ENJOY!
COMMENT AND RATE!
Click here to read or post comments