Funny Horse Names
by Sydney at HorseCrazyGirls.com
(Florida, USA)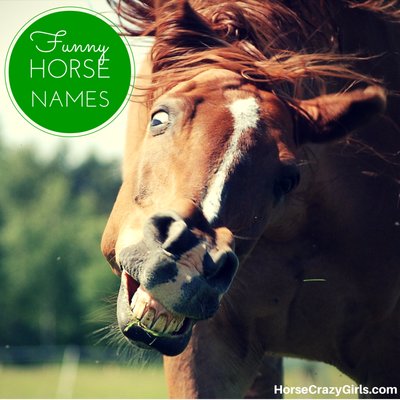 A chestnut horse with a white stripe shaking its head. In the background are trees and grass. In the upper left hand corner is a green circle with the words Funny Horse Names in white lettering.
Here are favorite funny horse names shared by horse crazy girls. Feel free to add your favorites!


Wotzit
(by Iona, Great Britain)
I love the name Wotzit cuz:
1. Its really original
2. My chestnut pony is called Wotzit cuz he is really orange looking - the same color as a wotsit!
O'Golly Miss Molly
Was my daughter's Medium pony Hunter last year. I love witty pony names overall. Another Favorite was her small pony hunter "RU Sirius" (pronounced serious--Sirius is one of the brightest stars, so fitting as his barn name was 'little star')
Next week my daughter's new large pony hunter is being shipped in, she's a pretty mahogany bay mare... have not thought up a name yet, but She is out of PiK Solo (Oldenberg stallion line) and Welsh. Here are some ideas, feel free to add your own.
Pixar
Pik Pocket
Deja Who
Sheza Rockstar
Sheez Got Sass
Name Ideas!
(by Nicole)
Here are some other name suggestions:
Pik Nik on the Bay
Pik Nik Bay
PikNika
Solo Act
Solo Star
Solo Mahogany
Pik Bay Star
Pik Tik
Solo Girl
Those are some ideas.... I like the names Pik Pocket and Sheza Rockstar but you want something in her name to do with her dam and sire's name so maybe Sheza Rockstar Solo or Sheza Pikin Rockstar or something! HAVE FUN!
Two Boots and Pepper
(by Madi, Temecula, California, United States)
I like this name because it reminds me of the movie "Two Bits and Pepper" but this name belongs to my friends little Arabian foal who has two white socks (aka) "boots" so when I made this name up (I was the one that named the foal) it just kind of stuck... so now, I love this name!
Rodeo
Because it says "I have a wild side and I'm ready to prove it in less than 8 seconds." Plus it's just a fun name!
Cheeky Chester
(by Jessie, England)
Because it's a cool funny name, also my pony's name!
Hoofhearted
A funny horse name because it sounds like "Who Farted?" LOL!
What about Spaghetti?
It's a funny name, if you don't want to be too serious.