Favorite Horse Names R - Z
by Sydney at HorseCrazyGirls.com
(Florida, USA)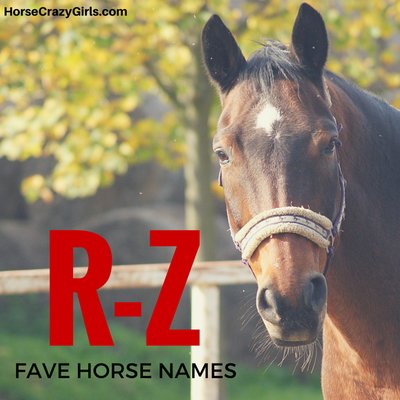 A bay horse with a white star wearing a halter with fleece. There is a tree, grass, and a wood fence in the background. The letters R-Z appear in red lettering to the left of the horse and below them in black lettering is Fave Horse Names. In the top left corner is www.horsecrazygirls.com in black lettering.
Looking for the best pony or horse names? Here are some I've gathered from horse crazy girls around the world. Like them?

Be sure to add yours.


Whispers to the midnight jewels (aka Star)
(by Brie, Painesville, Ohio, USA)
Whispers, midnight and jewels are all my dogs' names so I just put them together.
Zafeer
(by Vanessa)
Because it is my horse's name.
Skips Bo Bootylicious
(by Hannah, Kentucky)
I think it is a very unique name. Plus it gives me a giggle to say it every now and then.
Shadow
(by Cassie, California)
I have a black Dutch Warmblood stallion. He's really fast. He moves like a shadow! Lol. Shadow is the best horse ever. We have a strong bond. I love Shadow very much.
Trigger
(by Amy, Texas, USA)
Because my horse is called Trigger and he is AWESOME!!! Honestly, if you knew him you would love him!!! He is the best horse in the world. He's an Arab and is Chestnut! He's an AWESOME show jumper and we competed in Badminton last year and came 3rd!!!
Tater Tot
I just love it and one of my favorite horses is named Tater Tot.
Sampson
(by Mollie, Coloma, MI, USA)
I have a horse and he's name is Sampson. I LOVE him so much. He is a great horse. When I first got him he wasn't so great but now because I work with him a lot he is wonderful.
Suzie
(by Georgie, Bradford)
Because my favorite horse at my stables is called Suzie and I love to ride her in my lessons. And when my mum saw that she was up for sale, she was really tempted to buy her.
We just needed a couple of weeks then me and my mum went to see if she was still for sale and then we found out that another girl had bought her along with her sister.
I was devastated! However, she is and always will be the best horse ever.
Summer
(by Bailey, CA)
Summer is an 8-year old mare halflinger who I ride.
Ruby, my gorgeous
(by Toni, Essex)
Ruby is my horse. I bred her myself so she's my baby girl and I love her lots. I would never part with her. She wears a saddle and bridle, and I've started riding her now and then for a couple of minutes.
She loves eating grass, polos and likits which she bites instead of licks. She also loves her dinner but gets a bit stroppy when she eats and you disturb her. But once she's had her dinner, she's a little angel.
She adores being brushed and pampered. And when it comes to saying bye, I give her a big kiss and she nods her head about.
I love Ruby lots, and lots, and lots. She's my gorgeous baby girl!