Favorite Horse Names L - Q
by Sydney at HorseCrazyGirls.com
(Florida, USA)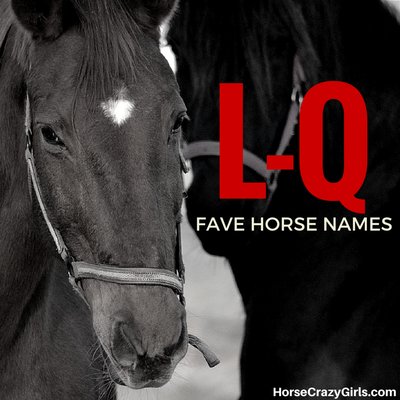 A black and white image of two horses. The first horse has a white star and is wearing a halter. The second horse, to the right of the other horse is all black and wearing a halter. L-Q appears in red font over part of the second horse's face and below that in white lettering there is Face Horse Names. In the bottom right corner in white lettering is www.horsecrazygirls.com You can see part of the ground between the two horses.
Here are fave horse and pony names sent in by girls who love horses. Let us know which ones you like by commenting and sharing your own below!


Little Miss Ladybug
(by Alexis, USA)
I have no idea why I like it. I guess because I was looking at names at the horse show and kept on seeing "Little Miss". When I got home, I looked at my board and I had a ladybug magnet on it then the name just came to me.
Names
(by Madori, Brandon)
Promise
- This name fascinates me because when you get a horse you make a "promise bond." You can never break it and no matter if your horse is mean and a big brat, and she makes you angry, that bond will always be there.
Majestic Sky
- My name is Japanese although I am American. My name means Angel of the Sky and Sky is my favorite word out of it. Horses are majestic creatures that used to roam the earth. Now most are gone but they are still majestic. I've always liked the name Sky and Majesty.
Mountain
- I like this name because it reminds me of my old horse. He was tall and very bold like a mountain.
I hope you like my names!
Prince
I love this name because it's my pony's name and he is the best pony in the world! He's a 13.3 show pony and his showing name is Hamire Prince Charming.
Moon Dancer
(by Catherine B., Mount Joy, PA)
I like this name because it has a certain feel to it that is hard to explain. Plus it sounds very unique and different.
Marley
(by Celeste, Melbourne, VIC, Australia)
It is really cute and fun. It would be good for a palomino.
Monty
I really like this name because it was my pony's when I used to go to my riding stables. But i am having my own horse soon and i might call him Monty!
Missy
(by Lisa, Australia)
I like the name Missy because it sounds cheeky and cute. It also sounds friendly at the same time!
Mystique
(by Sarah, Valencia, PA, USA)
A name fit for a queen. This horse will leave you in awe with your mouth hanging open.
Magic Faith
(by P0nyluver360, England)
Because it sounds so faithful and reliable and magical. It would suit a black stallion.