Awesome horse games, books, printables and more!
Do you love horses? Ponies?
Is riding your favorite thing in the world? 
Do you just love everything about horses? 
When you're not at the barn are you playing horse games or looking for cute pics of ponies? Me too!!!


I've made this site so we can share everything we love about these amazing animals!
Hi, I'm Sydney (the owner of Horsecrazygirls.com) and, like many of you, I am a true horsecrazy girl. I currently reside in beautiful sunny Florida, with my parents, my Labradoodle Sampson, and my horse Sinatra.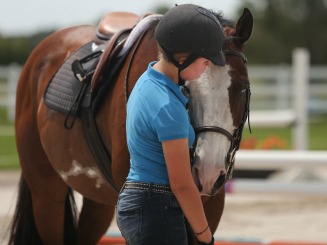 If you've been following my website for a while (I started it when I was 9), then you know I feel like I have waited forever for my horse. In the meantime, I rode every chance I got, and because of that, I have had a lot of experience on a lot of different horses. Some rides were better than others, but in the end, it's all good.

I hope you enjoy HorseCrazyGirls.com and get a chance to share all the fun horse stuff shared by other horsecrazy girls from around the world. I've had so much fun seeing all the great pictures, movie reviews, stories and tips you've shared.
I have heard from girls from all over the world too. We may ride different breeds, or have different styles of riding, but we all share one thing in common: we are all horsecrazy girls at heart!

Hug a horse,

Sydney

P.S. If you love horses, join our free horse club! When you sign up, I'll send you monthly updates on what's new and exciting on this site.