Shetland Ponies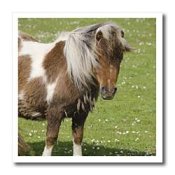 Aren't Shetland ponies the cutest? As their name implies, this breed came from the Shetland Isles which is located north of Scotland. They are known for their strong build and are often used for riding, driving and packing.

But despite their sturdy build, these adorable ponies are a fave of horsecrazy girls because of their size – they are one of the smallest horses in the world! They are usually 28 to 42 inches or 7 to 10.5 hands high (although this breed isn't measured by hands).

Shetland Ponies in the US
Even though Shetland ponies are originally from Scotland, they came to the United States through Eli Elliot in 1885. This breed is a cross between original ponies from Scotland and other breeds. Today, there are 2 basic types of American Shetland ponies – Classic and Modern.

Classic American Shetlands are more refined than their original (Scottish) counterparts. They are known for their gentle and well-balanced disposition. A lot of people think they are perfect for shows, trail riding and parades or even as pets as they are low maintenance.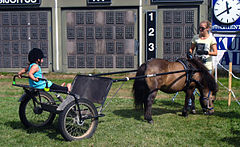 Foundation Shetlands are also grouped under the classic category. But they are more conservative and are bony.

Modern American Shetlands are crossed with the Hackney pony and are known for their attractive appearance. These ponies are agile, quick-thinkers and have a lot of natural motion.

The Modern category is broken in two types – Modern and Modern Pleasure. Modern ponies look a little bit like the Classic ones but are extreme in motion, while Modern Pleasure ponies display a more agreeable attitude and are generally weaker. Modern Pleasure ponies only use light pads and cannot use weighted shoes.

Don't you just love these adorable ponies?
Share your pictures of Shetland ponies here!