Are You Raising A HorseCrazy Girl?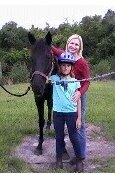 I had no idea when my daughter sat on her first pony at the age of two that it was just the beginning.
She was smitten.
I have no idea where her love of horses came from -- neither of her parents have done a lot of riding. But she is totally hooked. I love the fact that horseback riding is giving her great exercise, teaching her discipline, and instilling responsibility in her. (I do get butterflies when she jumps though!)
Parents of horsecrazy girls know exactly what I am talking about! It's non-stop talk about ponies and horses. If our daughters could move into the barn, they would.
I created this website together with my daughter for two reasons.
1. I wanted to create a safe and friendly place for her to find fun things to do online based on her love of all things equine.
When she is surfing the 'Net looking for horsey games and activities she sometimes runs across stuff I'd rather she didn't explore. This site allows us to share the cool things she finds, and hopefully will make your life easier too!
Safety First!
Before we post a site, we check to make sure it has a green check mark with the McAfee Site Advisor (a free tool I highly recommend), and we play any online horse games together first so I can check them out.
If you find anything I've posted isn't something you would like your daughter to see, please let me know and I'll be happy to reconsider it.
Our Privacy Policy
In a nutshell, we don't collect any information from children under 13. And for anyone above that age, we try to keep things anonymous enough to protect their privacy. For example, if you submit a review of a place your daughter likes to ride, we'll ask you to make up a nickname so she is not identified with that particular riding stable. If you want to submit a photo, you can include her first name and the horse's name, along with the state you live in. But we won't post the photo if it showed the name of her riding stable. My goal is to make this site as safe as possible for my daughter and for yours. Please feel free to let me know how we are doing!
2. I want to help my daughter learn the value of a business at an early age. I truly believe that our kids need to be equipped to work on their own and create their own future, no matter what they decide to do in life.
I have several websites of my own for my business (in a completely different subject area). But I was often frustrated with the lack of control I had, the money I was paying for what I received, and the difficulty in learning everything involved in building a website. So when a colleague recommended this turnkey service for creating my own site, I really wanted to give it a try. I decided I would test it while doing something fun and profitable with my daughter.
So far, the experience has been terrific! I can't tell you how easy it is to use, and how much better I like the results, when compared to most webmasters I use. And it costs me a fraction of what I've paid them! I could go on and on, but if you've been thinking about creating a website, I'd encourage you to check Site Sell out and feel free to ask me questions.
Finally, if you have any concerns at all about this site, please feel free to contact me and I'll be happy to call or email you back as soon as possible.
With warmest regards,
Gerri A.k.a. A HorseCrazyGirl's Mom