Are You Raising A HorseCrazy Girl?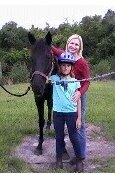 I had no idea when my daughter took her first pony ride at the age of two that it was just the beginning.

She was smitten.

I have no idea where her love of horses came from -- neither of her parents have done a lot of riding. But she is totally hooked. I love the fact that horseback riding is giving her great exercise, teaching her discipline, and has instilled responsibility in her. (More than once I've gotten butterflies when she jumped though!)

Parents of horsecrazy girls know exactly what I am talking about! It's non-stop talk about ponies and horses. If our daughters could move into the barn, they would.

In 2007, Sydney and I created this website together so we could create a safe and friendly place for her to find fun things to do online based on her love of all things equine.

Safety First!
Since we started this site, Congress passed the Children's Online Privacy Act. We have never intentionally collected information from children and our site is 100% moderated. However, in order to make sure we are completely compliant, this site is aimed strictly at girls age 13 or older. If you have a horsecrazy girl of a younger age, you are welcome to use the site together or encourage her to return on her own when she is 13 years or older. 

If you find anything I've posted isn't something you would like your daughter to see, please let me know and I'll be happy to reconsider it. 

Our Privacy Policy

In a nutshell, we don't knowingly or directly collect personal information from children under 13. And for anyone above that age, we try to keep things anonymous enough to protect their privacy. For example, if you submit a review of a place your daughter likes to ride, we'll ask you to make up a nickname so she is not identified with that particular riding stable. If you want to submit a photo, you can include her first name and the horse's name, along with the state you live in. But we won't post the photo if it shows the name of her riding stable. Our goal has always been to make this site a safe place. Again, it's designed for riders age 13 and older. Please feel free to let me know how we are doing! 
We do serve ads which may include cookies that track activity. See our privacy policy for more information. 
Building a business...
Another reason we started this site is that I want to help my daughter learn the value of a business at an early age. I truly believe that our kids need to be equipped to work on their own and create their own future, no matter what they decide to do in life.

I have several websites of my own for my business (in a completely different subject area). But I was often frustrated with the lack of control I had, the money I was paying for what I received, and the difficulty in learning everything involved in building a website. So when a colleague recommended this turnkey service for creating my own site, I really wanted to give it a try. I decided I would test it while doing something fun and profitable with my daughter.

So far, the experience has been terrific! I'd encourage you to check Site Sell out and feel free to ask questions.

Finally, if you have any concerns at all about this site, please feel free to contact us and we will be happy to call or email you back as soon as possible.

With warmest regards,

Gerri
A.k.a. A HorseCrazyGirl's Mom
Are you horse crazy? Join our free horse club!
Fun
horse games
and lots more!
By
Sydney
, Copyright 2007-2016 All Rights Reserved