Chincoteague and Assateague Ponies
Chincoteague and Assateague ponies come from an island off the coast of Virginia. According to legend, long ago a Spanish galleon got shipwrecked during a storm off the coast of Assateague Island. The ponies escaped and swam ashore.

The truth isn't half as interesting. Colonists living in Virginia probably turned horses loose on the island. It doesn't matter how they got on the island, really. Today they are a wonderful American pony breed. They are well-known for flashy colors, lots of personality and intelligence.

The ponies on Assateague Island are actually divided into two different herds. The Virginia herd is in the south. These are the ponies known as Chincoteague ponies. The northern herd are called Assateague ponies. Both Chincoteague and Assateague ponies are taken care of by the National Park Service.

Every year on the last Monday in July, the Saltwater Cowboys round up all the wild ponies.

On Wednesday, the ponies swim across the channel for Pony Penning Day. Hundreds of people line the shores to watch the ponies swim. It takes them five to ten minutes to swim across. It is amazing that even the small foals can make the swim safely!

The wet ponies are then paraded to the carnival grounds. The ponies rest and those who will be in the auction the next day are tagged. 

At the auction on Thursday, the foals are sold to people who have come from all over the country. The money raised from the auction helps the Chincoteague Volunteer Fire Department.

While it may seem sad to sell the foals, it keeps the herd on Assateague to around 150 ponies. This is an amount the island can support in good health. The foals that are sold get to go to loving homes with the lucky people who bought them.

On Friday, the older ponies are returned to Assateague for another year. The wild ponies are checked twice a year to see if they are healthy. They have their hooves trimmed, they get shots to prevent contagious diseases and they get wormed.
Pony Penning Day used to be the only place you could get a Chincoteague pony. Now there are small herds of these rare ponies being raised in other parts of the country. Now it's easier for those of us who are crazy about Chincoteague ponies to get one of our own!

Chincoteague ponies are on the large side for a pony. They can range from 12 hands to 13 hands high. A full grown pony can easily carry a person up to 150 pounds.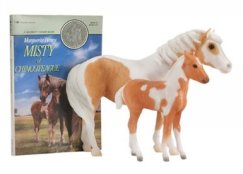 The most famous Chincoteague pony was Misty. She was made famous by the book "Misty of Chincoteague" by Marguerite Henry.

The book was written in 1947, and remains a favorite of children everywhere. Like almost every other girl who read Misty's story, I've always wanted to go to Pony Penning Day to get a pony.

Misty even had a movie made about her in 1961. She toured schools around the world for awhile. Misty then retired back to Chincoteague to have babies of her own.

Misty died on October 16, 1972. If you're lucky enough to visit Chincoteague, you can see her hoof prints in the cement in downtown Chincoteague. She has a statue honoring her as Chincoteague's most famous pony, too.

Chincoteague ponies have their own registry now, like other horse breeds. It began in 1994. It is known as the Chincoteague Pony Association.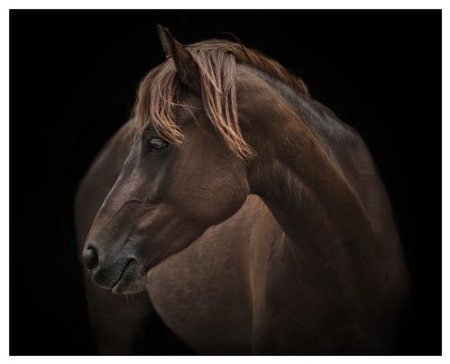 Since Chincoteague ponies were bred by natural selection, there is quite a range of characteristics. Some ponies look more like Arabians, while others look like small Mustangs.

Their heads should be expressive, with a wide forehead. Their eyes should be large and soft. Their nose should be short, and can be either dished or straight. It should end in a firm, tapered muzzle.

They weigh about 750 pounds and you can find them in almost any color. Pintos are very common.
The Chincoteague ponies are smart. They do well in horse shows. They learn quickly and are fun to ride. They can be a wonderful breed to add to your stable. And even if you can't own one, you can help support them by becoming a member of the Chincoteague Pony Association.

I love Chincoteague and Assateague ponies!! Don't you?