Hi! Sydney here with the latest news...


New Contest for Members Only!
Hi horsecrazy girlfriends....I've got a new contest for you!
Congrats to Windcall for winning our summer reading contest. If you've spent much time on the site you'll know that Windcall is a great writer and totally luvs horses like we do.
Ok, here's the new contest.
My Mom's friend Shara is a really cool artist and I begged her to create a shop with fun horse stuff. So she did!
I am inviting only my horse club members to take a sneak peek at the stuff in the shop and tell me what you think. Take my poll and one person will win a $25 gift certificate to the shop.
The link to the page is below. You'll have to first enter your password in the box. And the password to get in is...what else?
horsecrazy
Just type the password in the box and then follow the instructions to enter. Can't wait to hear what you think.
We'll pick a winner on October 26th 2008.
Horse club contest for members only!

Horse Pic of the Month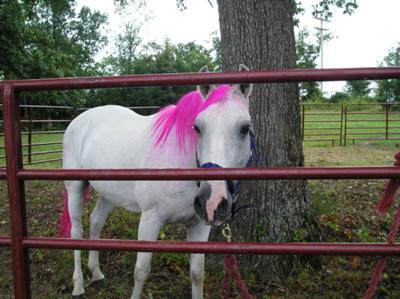 Amber sent us this picture of her horse Sugar. She dyed her hair pink for Halloween. Isn't she cute? Share your comments on Amber's page.

Let Amber know what you think of Sugar!
A Great Horse Show Story
We love the horse stories you have shared with us. There are so many it's hard to pick just one, but this one was funny...

Halley from Devon told this great story about a girl who hit a horse and started Horse Mayhem! Read it and let Halley know what you think!
Horse Movie: The Long Shot
Have you seen the movie The Long Shot? I've watched it lots of times on DVD. It's about a woman who has a dressage horse that she is training for a competition. She desperately needs to win. But then the horse goes blind. What does she do???

Have you watched The Long Shot? Review it here!

Cool New Horse Game!
I found a new free online horse game with AMAZING graphics! It is called My Horse Club.

Now here is what is good about it:

You can get a horse (or pony) and then you can go riding and meet other players. When you are reading you actually post! You can walk, trot and gallop. The scenery is just beautiful.

You also have to take care of your horse. For example, sometimes your horse will have red spots and you have to put cream on it. You can brush your horse, but not when it has the red splotches.

Now here is a warning. You may need help downloading it. The graphics are pretty intense and my mom had to do a bunch of stuff to get it to work. (She has a new computer so it should be able to handle it, but she kept getting error messages.) Even now, we can't play it if we are using Internet Explorer - we have to use Firefox. So if you have trouble getting it going, ask an adult to help you with the troubleshooting.

Then, it appears you have to buy cards in stores to get stuff in the game, but they are not available in the US yet. I hope we'll be able to get them soon!! I'd like to be able to do a lot more.

I am sending you all an invitation to play...but if you didn't get it, try this link below. My username is sydneynlily. Look for me when you are online!

Play My Horse Club and Let Me Know What You Think!


Hope you have a fun Halloween! Keep riding and keep sharing those great horse pics and stories!

Your horsecrazy girlfriend,

Sydney