Who needs a boyfriend when you have a horse?
by Molly
(Mount Gambier)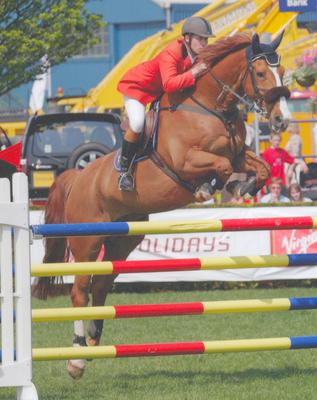 Hi im 14 years old and this is me and my beautiful horse competing in sydey for the showjumping classic. I was the youngest rider there and i won it. that is my fav moment ever..
1. Inspiration. Horses are creatures of beauty. Beauty may be in the eyes of the beholder, but horses have inspired artists and poets through the ages. I am awed by the sight of a herd of horses galloping through a field - powerful, independent beasts but stunning to view. They are living art forms that remind us of the natural wonders of the world. This in turn inspires us to live our lives at a higher level.

2. Fun! Some of my best times growing up are doing things with my friends and my horses. We spent hours playing at the barn. Sometimes my girlfriends and I would go to the jump arena and pretend we were horses. Other times we'd be out riding and pretend space invaders were coming after us and we had to outrun them by galloping across an open field. Silly? Yes, but these are fond memories. Horses let kids be kids. They nurture the imagination and enjoyment of life.

3. Riding is all around great exercise. Burning calories and toning muscles while enjoying nature is the ultimate. The combination of barn work, grooming, and regular riding is one of the best kept fitness secrets around. If you ride regularly you can probably save a bundle on gym fees.

4. Social life. There are many social activities related to horses. From hanging out at the barn with friends to going to shows or group trail rides, horses keep their owners in touch with other humans. Horses give you an instant common bond with other horse admirers. This bond overcomes cultural cultural and societal differences.

5. Positive mental health and relaxation. I keep horses because I love to ride, but it's not the only reason. Truth is even if I didn't ride I would keep horses because I love being around them. Horses relax you and intuitively seem to know what you need. I have come to appreciate this aspect of horses with the passage of time.

As a kid horses meant riding and being with my friends. Now they act as natural tranquilizers - their very presence can lower my blood pressure and improve my mood. I simply enjoy watching them do their normal horsey activities - from munching on hay to rolling on their backs in the sandpitt.

And for these reasons and more this is why I love the magnificent, beautiful and graceful species which is of course the wonderful horse.