The Story of My Life - Part 1
by Crazyhorselover
(Canada)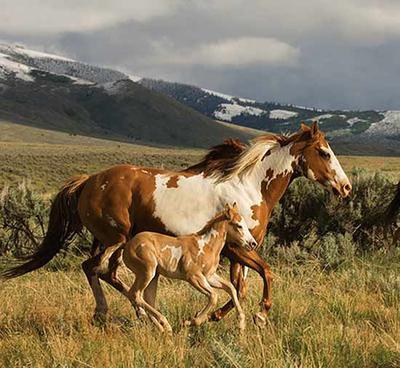 River and Rain
Montana, 2016 -- I fall gently onto the damp grass and open my eyes to the new world, I look up to see a roof of trees before me and I look sideways to my mama. She is a beautiful brown and white paint horse with a light brown mane and tail and one blue and brown eye. I am the same color!

My mama nickers to me and I whinny back. She starts licking me, her warm tongue caressing my fur. "My little filly, you a must get up, for danger may hide in the woods," she says and gets up. She nudges me and I sit up, trying to stand up but my legs wobble underneath me.

My mama encourages me again and again until I've stood up. I listen to my instincts and nurse, my mama nuzzles me after I'm done. I feel tired from everything after and I lay down in the thicket with my mama watching over me.

When I wake up I look up to the sky and I see big puffs of dark, angry it seems circular shapes and sometimes ovals. I get up and my mama sees me looking. "Those are clouds but the ones you are seeing are thunder clouds, there is going to be rain," she explains and I look at her confused. "But mama, what's rain?" I ask. "You will see once it comes, now don't worry my filly, nurse," she says and I listen to her.

After I finish nursing, little drops of water start falling from the sky and I try to chase them. One falls on my nose and I shiver because it's cold. "Come in the thicket!" My mama calls and I trot back. "That is rain," she says to me and I shiver. "It's cold mama." "Come close," she says and I press against her for warmth.

After a while, the rain drops get bigger and thunder, as my mama calls it, starts booming. I squeeze my eyes shut and lay down, trying to get away from the frightening noises the thunder makes. My mama nuzzles me and lays beside me.

After the thunder and rain stops, there is a beautiful blue sky and no clouds. The sun comes out and I see all the colours in a thick band in the sky. My mama calls it a rainbow. "My filly," she says to me one day while I am at her side, "I am going to give you your name and that is Rain," she says and smiles. "Thank you mother," I say and smile back.

After a long time in the thicket and the field, my mother tells me it is time to go back to the herd. "When I knew you were about to be born I went away to have you to myself," she says to me. We begin the journey to the herd and we pass lakes and ponds, as my mama calls the pools of water. We also pass wheat fields, fields with golden crops in them that the humans grow.

My mama bares her teeth a bit when she says humans and she tells me to not let one tame me ever. She looks into my eyes when she says that and I know I was born to be a mustang, not a tamed horse, for the humans. I nod my head. "Yes mama," I say and we continue cantering to the herd.

Then suddenly, a vicious cat-like creature jumps out at me and my mama kicks it sending it flying. She runs over to it and it runs away. She trots back to me. "That was a cougar, it could've had you for dinner," she said and nuzzled me. "Always be cautious Rain," she says.

Then we get to a hill and when I look over it I see hundreds of horses, maybe thousands!! My mama trots down the hill and I follow nervously. The herd looks up and whinnies to her, she whinnies back. Then a very big paint stallion neighs and canters over to us. She whinnies to him and they nuzzle. He comes over to me and my heart pounds. He sniffs me. "Hello Rain, I am your sire, West," he says in a deep voice. "Hi." I stumble over my words and he chuckles.

Then he nuzzles mama one more time and says "strong foal, River," he canters back to the herd.

PART TWO COMING! Tell me what you thought of my story so far in the comments! Thanks!