The Lost Horse
by Ali
(Floodwood)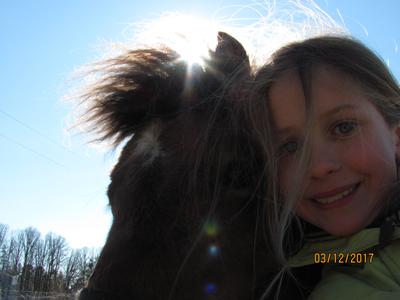 Me and peppy!
Chapter One
It was a cold, dark night as the beautiful Arabian slowly walked through the snow. It had only been two days since she ran away from her dreadful owner. Horses have great memories, she remembers everything about where she lived. She remembers a man kicking her sides over and over again as his anger grew.
She was out of breath and tired from trying to get away from Leroy, her owner. She had been wandering around the woods for hours and finally decided to sleep. So she laid down on some leaves. Her body hurt as she hit the ground.
She felt like she could sleep forever.
It had only been fifteen minutes after she fell asleep that she heard something. It was Leroy, trying to find her.
"I will get that wild, white beast if it's the last thing I do." Leroy said angrily to the men helping find the horse.
"Well, you better because that wild thing is worth thousands!" One of the men said.
As soon as she heard the voice, she was running as fast as she could. She went sailing over logs, she ran and ran until she knew that the men were far behind. Their horses were no match for the strong, powerful horse.
When she was running, she remembered running like this and sailing over the fence that she was trapped in - when she was still trapped with Leroy, that terrible man.
She loved to be free but she knew it wouldn't last long cause Leroy would soon find her.
That's all for now! I will write the rest of the chapter later!
Chapter Two
This is the same story. I'm just going back and forth from the horse to the girl named Sam! 😀
"Sam, come back!" Cried Sam's mother.
"Why should I?!"
Sam was short for her age and had shoulder length hair that was hardly ever brushed. It's been so hard on her since her grandma died.
"John, I don't know what to do anymore!" Said Sam's mother to her husband.
"Don't worry. It's only been two weeks. It will get better. We just need to give her time and lots of prayers."
This was not Sam's real grandma but she thought of her old friend as her grandma. Her real grandma on her dad's side of the family lived far away and barely ever gets to see her. And she never knew her other grandma cause her mom was a foster child.
Tears blurred Sam's view as she walked around sad and mad. She missed her "grandma" and wanted her back.
She was finally able to stop thinking about her grandma and thought about how she got mad at her mom for simply asking her what she wanted to do for her 13th birthday. She didn't want to have a party. Not without her grandma. It reminded her too much of her other birthdays with her and how special she made it.
It was cold out and she wasn't wearing gloves or a hat and she was shivering. Her jacket was unzipped and she knew she needed to get to the house but she couldn't. Not after the way she had acted. But she couldn't stop shivering.
After she couldn't stand the cold any longer, she headed to the house. The house seemed so far away. Finally, she got to the steps and reached for the door handle and turned it. Her head was spinning and she pushed the door open.
She felt awful and sick to her stomach. As soon as she opened the door, she collapsed.
I will write about the horse next time. And just a hint, her horse and Sam meet in the next chapter. Sorry that it was so long. Hope you enjoyed!
Chapter Three
I felt mom squeeze my hand and I opened up my eyes. Mom looked so worried. I felt dad's big strong arms lift me up and carried me up the stairs.
Our house was small with an upstairs with two rooms and when you walk into the house you can see the dining room and then the doorway to the kitchen. It was a small room with not much counter space, and the living room was just like all the other rooms - as small as can be.
Mom opened the door as dad carried me into my room and set me down on my bed. We watched a movie on my laptop. Mom sat with me the whole time making sure I did not fall asleep.
After I was feeling better, mom explained that I had hypothermia and that I was lucky that I did not have to go to the hospital.
After a long boring day in bed, I was able to go outside so I went for a walk down the trails in the woods where me and grandma used to walk and talk for hours. Thinking about it made me want to cry so I tried to stop thinking about it until I heard something.
Her mane was full of sticks from running through the woods and was matted with tangles. As she walked through the woods, every step she took sticks snapped under her hooves.
Could I be any louder!
She thought to herself. She would never be able to hear Leroy coming with all this noise! She lifted up her head and saw something in the distance so she ran to it as fast as she could with the little bit of energy left in her.
Thoughts whirled around in her mind. Maybe someone lives here and maybe they would want to keep me and give me a good home, she thought to herself.
I was stiff, still scared to death and then a beautiful white horse jumped out of the woods.
Chapter Four
She was the most beautiful horse I had ever seen! Then again, she had seen one other horse in her life.
"Hey girl, you're lost, aren't you?" Sam said.
The horse tossed her head as a warning to stay back.
"Dont worry girl, I won't hurt you. You're safe now."
Her voice was soft and calm, For some reason, I didn't run. She seemed different from all the other humans. She came, she stepped closer uncertain of what she would do.
I reared, warning her again to stay back and she took another step forward. This time, I let her and she pet my muzzle. Her hand was so gentle.
She grabbed my mane with a gentle touch. I didn't have to follow but I did. She was the most wonderful human I had ever met.
Sorry, it's so short! I did not have time to write more, sorry!
Chapter Five
The girl led me down the trail until a small house with an old shed was in sight. The cold December wind blew in my face causing my mane to go wild.
For some reason, I was not scared. I saw something good in the girl, something I have never seen in another human. She led me into the old red shed. The place smelled like dust and rotten wood.
"What do I do!" Sam thought to herself and sat there for a minute staring at the beautiful horse. "I know nothing about horses rather than what my grandma told me about them. She would have known just what to do."
I tried to remember what grandma told me. I was never interested in horses, no matter how much grandma talked about them.
The thought of grandma made tears push in the back of my eyes. I pushed away the thought of grandma and thought of a way to tell mom that she had a horse in her shed. I figured out what I was going to say so I stepped out of the shed and closed the door behind me.
"I will be right back girl," Sam said.
There I was, alone in the shed the girl had left me in. I wondered if she would come back. There was not much room in the shed and the only light was from the broken window. Feeling trapped, I panicked.
I kicked and yelled. I kicked the door over and over again until it finally broke free, and I ran out of the shed. I had to find the the girl. I had to!
My mind went crazy with thoughts. The girl can't leave me, she was the only hope I had left to be saved and to have a real home!
"Mom! Are you in here?" Sam yelled in the kitchen.
"I am in here!" Her mother replied from her bedroom upstairs. Sam ran up the stairs and into her mother's room where she sat on her bed folding clothes.
"I have to tell you something," Sam said.
NEEEIIIGH!!
"What was that!" Sam's mother said. They both ran outside.
The Arabian let out another long neigh and the door of the house opened, and there the girl was.