Tangolove's Horse page
by Tangolove
(United States)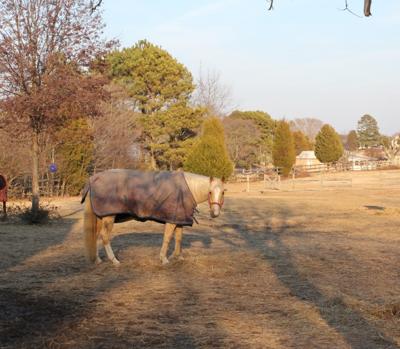 Tango
I have 3 horses. :D Touche' is our rescue Thoroughbred, and is as sweet as a newborn lamb. He is an ex-racehorse, (His racing name was Touchwood)and was too slow, and was being trailered to a slaughterhouse, when my grandad's friend stepped in and saved him!

:D Tango is my fave! He is a palomino Quarter Horse who rides western. I love him with all my heart, and wish I could get a foal out of him. (But, of course, I can't. Tango is a gelding) He is so sweet, that my 3 year old sister can ride him. :D She loves Tango, too.

Our black Tennessee Walker is named Sport. His name says it all. He is a major tom-boy horse, and my sister (who thinks she is a boy) loves him to death. He is a faster, more spirited horse, and loves to run. He is the leader of our little herd. :)

We had to give Mange, a chestnut Quarter Horse, away not too long ago. He was a lazy thing, and I liked him, though I had never ridden him. We had to give him away because a crack in his hoof was causing him to become lame, and so we gave him to someone that could take better care of him.

Luckily, we know the owner very well, and I will get the lucky chance to ride him! I love horses, but mostly get to ride Hunter-Jumper style. I jump about one foot, and ride a wonderful percheron-thoroughbred cross named Donte'. (Sorry I don't have a pic) I play on White Oak Stables, and am obsessed with the game!

:D That's about it!