Puddleby
by Sydney
(HorseCrazyGirls.com)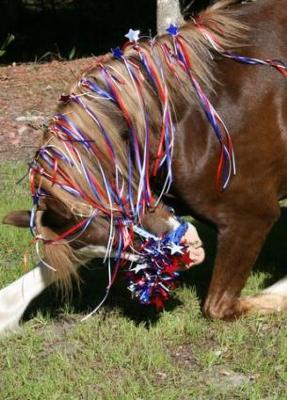 Puddleby the real-life pony!
Puddleby is a sweet book by Thea Wilcox. It's an adorable story of a pony who finds his true calling. Much of the book is based on actual people and true events.

This is a wonderful book to give to a younger reader - I think about kindergarten through third or fourth grade.

Puddleby Pony is a real pony, and the story behind this book is very cool. The author, Thea, got Puddleby thinking she would train and sell him. But she realized he had a much more important mission. He became part of her mission to help bring up the spirits of people going through very difficult situations.

So 100% of the profits of the sales of Puddleby go to the Going Miles for Smiles Foundation (GMFS, a Florida, not-for-profit organization formed while author Thea Wilcox wrote her book, Puddleby. Thea's dream is to help many, many people in a unique way.......by bringing smiles to those who are less fortunate than others.

It may be a child fighting a severe illness who and is restricted to living in a hospital. Perhaps it is the disadvantaged child who has never felt the warm, moist nose of a pony against her skin. Or it might be an elderly person who has no other family, and needs a loving animal to brighten up an otherwise gloomy day.

Puddle's mission – through the Going Miles for Smiles Foundation – is to bring happiness and special sunshine to those who need it the most.

Buy Puddleby now and support the Going Miles for Smiles Foundation!