People keep insulting my horse
by Horseluver4evernever (Sarah)
(Canada)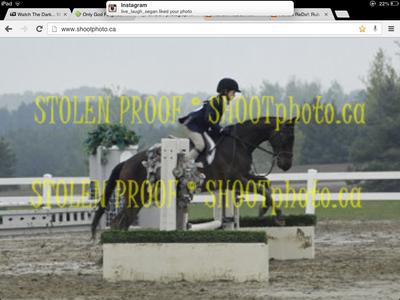 This is us at our first a circuit show
Hi guys. I've been really upset lately because people think that my horse is ugly. My 'friends' make up jokes about her that they say to each other, right in front of my face. It's really hard for me to let this roll off my back. I can't. I just freak out.

So today after my lesson, I went into the section of the barn only boarders (like my friends and I) could go in. I was I untacking my pony holly, when my friends ran in. They started telling jokes about holly. " the reason she never stands still, is because she doesn't want people to see her ugliness." One says. The other one laughs.
I just stand there.

"Okay....." I say. Then they walk over. I just bought a new saddle. I got an equipped expression. I love it.

"Do you like your saddle?" One says.

"Yesssss...." I answer. "Why else would I buy it?!"

"It feels and looks like fake leather. " she says.

"No it's Italian leather so it's extremely soft and feels different from yours." I answer
"You actually like your saddle?!" She says.
"Yess....." I answered
Then the other girl joins.
They walk to my horses flank.
"Look at how weird she is here!" They laugh. "It's so weird!"
"Don't all horses have it?" I asked
"No!!!" They answer
"Oh," I say. "Whatever"
"She's so fat!" They tease. They told me a few months before that she was too skinny!
"No she's just build differently then your ponies!" I say, starting to lose my temper.
"She's so weird!" They laugh.

That's when I lost it. "You know, I would really appreciate it if you DIDN'T make fun of my saddle and my horse!" I said impatiently. "It's really rude!"
"We never made fun of her though!" They say.
"Yes. You did." I say. " so do me a favour. Don't make fun of her again,"

Then a bit later, I confront one of them.
"Hey you know what," I say. "I don't go around the barn telling you and everyone else, that your pony is weird and skinny then fat and that he's ugly. Do I?!"
"No...." She said quietly. I notice the barn manager, one of the girls mom, is standing to the side. I didn't think twice about it being bad because she isn't afraid to tell her daughter to be nicer.
"So stop calling my horse names!" I said. "I'm sick of it!" This is the girl who used to be in love with my horse before she was mine. Then she fell off of her, and too this day blames it on holly. It wasn't Holly's fault though.
I left it at that.

I don't know what to do. I've had problems with one of these girls before. She recently bought a pony. She has been hanging out with the other girl now. They have become quite mean and I don't know what I'm gonna do about it. I think I might tell the barn owner what's going on. She gets really angry when she hears with at someone is calling a horse names.

Any ideas? Any help is appreciated!