Old Mill Stables
by Haddie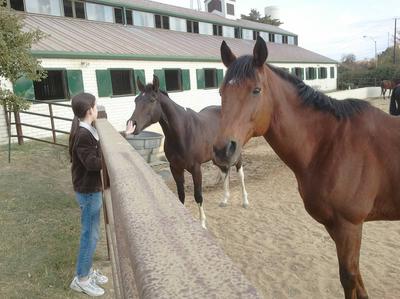 Petting horses
I've changed the names of the stable, the people, and some of the horses, as well as other details, but this is based on a true story about something that happened to me several years ago.

Part One
I step out of the car and breathe in the smell of horses. I'm so happy. Wearing a lavender sweatshirt, tan jodhpurs, and tall black rubber riding boots, I've just arrived at the stable for my first riding lesson! I've longed to ride for so long, and now the day is finally here!
My stomach flutters as I walk towards the barn, but my nerves calm when I meet my instructor, a young woman with a kind voice and a gentle manner. She takes me to the tack room and finds me a helmet that fits and a pair of gloves to borrow. Then she smiles and says, "It's time to meet your pony!" It's the moment I've waited so long for.
After handing me a carrot, my instructor leads me to the stall of--"Haddie! Are you listening?" Oscar's voice jerked me out of my daydream.
Slowly, I made myself focus on my younger brother's face. "What?"
He grinned mischievously, obviously enjoying my confusion. "This is the third time Dad has said to go to the car!"
"Oh." I picked up The Kingfisher Illustrated Horse and Pony Encyclopedia and followed Oscar out the front door.
Outside, it was a lovely day. The air was crisp and cool, the sky was blue, and birds were singing merrily. The trees along the street were decked in red, orange, and yellow leaves. It was the day after Thanksgiving, and my family and I were spending the holiday weekend at my grandparents' house four hours away from home.
That morning at breakfast, Grandma had proposed a visit to a dairy farm close by. My three siblings and I had all agreed that it sounded like a fun outing, so we had all gotten ready to go, and then I had lapsed into my favorite daydream-imagining what it would be like if I ever got to ride a horse. I wanted so much to take riding lessons.
The screen door slammed shut as Grandpa, the last one out of the house, stepped into the sunshine. He locked the door and then we all piled into my family's Suburban. I crawled into the backseat between the car seats of my six-year-old sister Betsie and Jake, the youngest, who was four.
Dad started the car and we were off.
Several minutes later, I opened The Kingfisher Illustrated Horse and Pony Encyclopedia--my favorite horse book--and wondered which horse or pony from its pages I should pretend to ride today. The pretty little bay pony? The dappled grey Arabian? The big chestnut draft cross? I had just decided on the pony-my name for her was Cinnamon--when my dream was again interrupted.
"Haddie?" This time it was Grandma's voice from the seat in front of me. "If you look out the left window, there will be some horses in a few miles."
Horses!? We weren't out of the city yet! But I glued my eyes to the window. Before long...horses! There they were! Turned out in a sandy arena...bays...pintos...a golden palomino...they were all so beautiful it took my breath away.
Then we were driving past a big barn, white with hunter green shutters on the stall windows...and then more horses! A second arena, with even more horses than the other one! Each horse seemed more beautiful than the last. I gazed at them for as long as I could.
Before long, we arrived at the dairy farm. Dad turned into the long gravel driveway. On either side of our car were green pastures, each with a group of light brown cows grazing peacefully. Oscar, Betsie, and Jake exclaimed over the cows. Only I said nothing--I'd always had a quiet personality; besides, I was trying in vain to decide which of the horses I'd seen were prettiest and which I'd like to ride most. Eventually I gave up.
"Jerseys on the left, Guernseys on the right," Grandma informed us. She was knowledgeable about bovines, having grown up on a dairy farm in Wisconsin. "We always had Guernseys when was a kid."
I liked the cows. They were pretty animals, though, in my opinion, not quite as lovely as the horses.
Dad continued driving until we reached a small building with white rocking chairs on the covered porch.
"Uh oh," Grandpa said suddenly from the passenger seat.
"What is it?" I asked, not seeing anything wrong.
"Look at the door of the building." I took a closer look. On the door was a sign that read, in big black letters, "CLOSED". The car was silent for a moment.
"Well," Mom said slowly, "I guess we won't get our tour of the farm after all."
Disappointed, I sighed quietly. I would have liked to get up close to the cows...maybe they would have even let me milk one. Dad turned the Suburban around and drove back to the pastures, pausing there to let us get one last look at the cows out the windows. Then he turned out of the gate and back onto the main road.
t was then that I had my idea. My heart leaped at the thought. I knew it might not work...but I just had to give it a try.
"Dad?"
"Yes, Haddie."
"Since the farm was closed..."
"Yes?"
I blurted it out. "Could we go to the horse stable instead?"
He paused for what must have only been seconds, but felt like much longer as I waited in suspense for his answer. My dad always liked to think things over thoroughly.
"Well," he said slowly at last, "I don't know if they would allow people to just come visit, but...we can try."
I felt like jumping up and down, but I had a seat belt on. Instead, I thanked Dad. Then I looked out my window--the stable would be on my right now--and felt a smile of anticipation spread across my face. Maybe, just maybe, my dream of being with horses would start coming true today!
I couldn't wait.
Please comment if you like it and want more, or give me suggestions on how to improve my writing!