NvCowGirl15
by Sam
(Plantation,Florida. USA)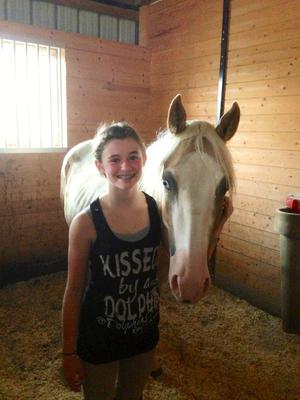 This is Dallas my baby boy, after my first time riding him
My name is Sam Forster and I'm 14 years old. I have been riding since I was 4 years old,I started riding English and just loved it. Between the ages 4 and 5 I had gotten bucked of by my lesson horse,Princess,3 times. But I kept riding,when I turned 6 the stable is went to shut down so I went somewhere else. That is when I started jumping.

The highest I've jumped is 2.8 feet,I now own a registered palomino paint colt named Dallas. I love him to bits! He has one blue eye and one brown eye. I also have a quarter horse mare named Annie that I barrel race on,she is about 13 and Dallas is turning 3.

This is how horse crazy I am:-).