Need For Speed
by Morgan
(Georgia (United States))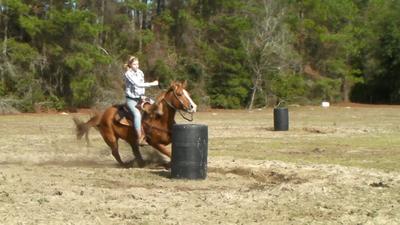 I have 3 horses. I have a sorrel Quarter Horse mare and she is 10 years old. She was abused once but she has come a long way. I also have a bay Quarter Horse x Racking Horse x Mustang Cross gelding and he is 13 years old. I have a 1 year and 10 month old dark bay Quarter Horse x Tennessee Walker cross yearling (male). I am breaking him. He will have to be sold whenever he's at a certain point.

I am a barrel racer. I am joining the NBHA (National Barrel Horse Association) very soon. And also, my sister keeps her horse at my farm. Her horse is a grey AQUA mare. She lost her left eye, but she is treated normal. She rides and barrel races still.

I trained my mare. She has not been seasoned but that is part of the reason why I'm getting in the NBHA. I am breaking the colt and training him too.