My Wild Heart
by Melanie
(Texas)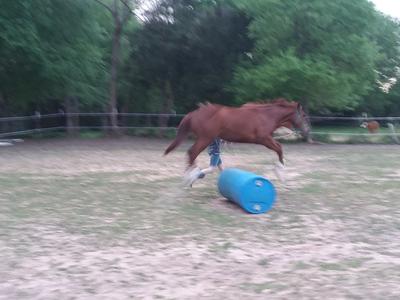 Rebel
So I have been posting on horsecrazygirls.com for years now, commenting on other's stories, sharing some of my stories and everthing. I read Josh's Forsaken and Parker Liam's Star Dancer and saw how much y'all guys loved those stories and I am stepping up and writing my story about my life with horses.

So the first bunch of years I'm going to sort of speed through and then get into more detail as I get closer to present day... Some things you should know though is I am the oldest of 5 siblings, I don't technically live where my horses are, they are at my grandma's who lives 20 minutes away from my house and I go there like 4 or 5 out of 7 days a week so I can horse around. ;) Other things will be added in as the story goes...

It started when I was a baby. Talk about love at first sight! My mom held me up to one of our horses and I touched him, and then pet him. Horse was one of my first words. I couldn't get enough of them. From then on, man I was hooked! As soon as I could walk I was toddling out to the fence to pet them. When I was like 2 I got to ride for the first time. It was awesome!

Years pass and I was 5 and still horsecrazy. A horse from our neighbors pasture escaped into ours. I say escaped because these people starved their horses, beat and abuse them. We had called the Sheriff on them a lot but they always got away with it. Finally this one broke through the fence into our pasture. He was a 5 year old bay stallion but sweet as a puppy! He followed me around everywhere. We kept him, castrated him and started train him to ride. The thing is he was okay with me but anybody else he was scared of. I'm sure he had been beaten. I named gim Phillip. Phillip bucked everybody off but me except once. That time I was on him and a bee sting him and he bucked me off trying to get away from the bee. I broke my elbow and after that my mom was scared of him and hardly let me on him. Then I went to riding Buck. He was a 15 hand paint gelding with an addditude. I shouldn't have been riding him but I wouldn't stop with horses and he was the only one who was "safe". And he wasn't safe. I couldn't control him. He scraped me off under so many trees, swam through so many ponds and creeks and kicked up his heels so much to try to get me off. We decided to buy me a trained horse. So on Face book, when I was 9, my grandma ran across this place where the sold a bunch of horses. We decided to visit there and see if any might be suitable.

We drove down the winding road. "Are we close yet?" I asked my grandma.

"Just a few more minutes" she said.

Shortly we pull up at this place with a big barn. We meet the people and and they show us around.

"This paint horse might me a good fit", the man said." He is young but obedient".

That paint just reminded me too much of Buck. I still rode him but I just didn't have any spark. Then they brought out a different horse. This one a sorrel mare. I rode her. I rode her a LOT. She was awesome and sweet. "This is the one," I told my grandma.

Okay that was the first chapter. Sorry if it's short and boring the others will be much better. I will add more later but I have to finish mucking out stalls!