Love for horses
by Claire
(USA Sault Ste. Marie Michigan)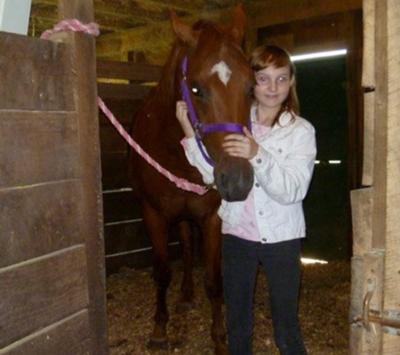 me and miranda
I love horses, they are my favorite animal. I have two horses one named Miranda and the other Juliet.

I ride Miranda when I get to see her, she is my best friend she means the world to me. I got her for my 13th birthday from my dad's cousin because she knew how much I love horses.

There is not one horse I will call ugly, no matter what shape color or size they are all amazing and beautiful to me, nothing will change my mind about that.

Also my best ride was when I got to ride my horse bareback, most people say it would hurt the first time but for me I was born to ride horses so it didn't hurt me.

By the way, the first time I rode a horse was in 2009 - the year before I got my heart transplant. The horse I rode was named Lazerbeam. He was a very big and sweet horse he fell in love with me when I met him.

I still ride him, he is a special horse to me and I'm special to him. My dad is letting me take riding lessons because he wants me to get better at riding even though I'm already very good at it.

Horses are my true love nothing beats them. They are the most beautiful animals in the world, I have wanted one since I was born and now I have Miranda. And I'm glad because me and her bond like Secretariat and his owner in the movie.

Miranda and I are like one, we are the most amazing best friends you will find in a girl and her horse. Her and I are ONE and nothing will ever change that.

I love all horses no matter what they look like they are all beautiful and amazing.